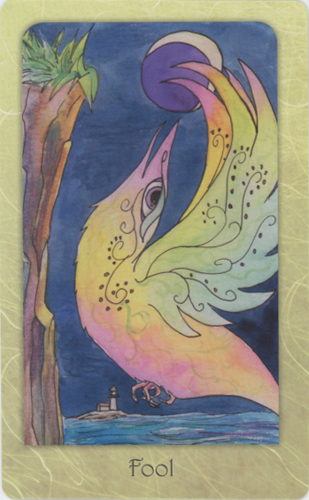 I've been following the artistic adventures of Beth Seilonen for several years now; enjoying news & online views of each deck she creates which also get many in our Tarot community buzzing with anticipation. One of my favorites is the clever, sweet and quite out of print Isabel Snail Tarot, which I reviewed in 2008.

I am delighting in two of Beth's recent endeavors; this lovely Dream Raven Tarot currently being reviewed, as well as a precious handcrafted Major Arcana homage to Tarot de Marseille of only 100 signed & numbered copies, (wherein all the characters are sporting pointy schnozzes for some reason which also suits the ambience grandly). She is a creative powerhouse who never seems to run out of fertile themes for her decks which are made with wonderful whimsy & attention to detail. She has already painted over 80 decks with no signs of stopping. (That has got to be some sort of record!)

Needless to say her fans were ecstatic when Ms. Seilonen was published by Schiffer again in the Spring of 2013. Schiffer had previously published Beth's Tarot Leaves in 2011 and has plans for a 3rd set later in the year. This Publishing house has an impressive reputation of producing quality deck sets, some of which include exceptional boxes; the most prized type being the kind that comes with Dream Raven Tarot. This box holds the deck and the book in separate snug compartments while closing securely with a sturdy, magnetic lid. The designer of these boxes must be a collector or have heard the eternal moans of deck enthusiasts echoing throughout the ions while struggling with flimsy tuck boxes or oversized contraptions which never protect the contents once the shrink-wrap has been ripped from the deck. These trendy Schiffer boxed sets not only make a lovely presentation but will stand the test of time to protect such treasured possessions.

Dream Raven Tarot is a 78 card deck of birds mostly doing symbolic things that would only happen in the dream world where even ravens wear the colors of the rainbow.

The cards are a sturdy, shiny cardstock measuring a generous 3.5 X 5.5 inches (8.9 x cm 14 cm). The green toned borders contrast gently with the multicolored birds and is a refreshing alternative to boring white edges. The Minor Arcana suits are traditionally titled as Wands, Cups, Swords, & Pentacles. The Court Cards are also the familiar Page, Knight, Queen, and King. The deck seems to have been somewhat inspired by Waite/Smith scenery.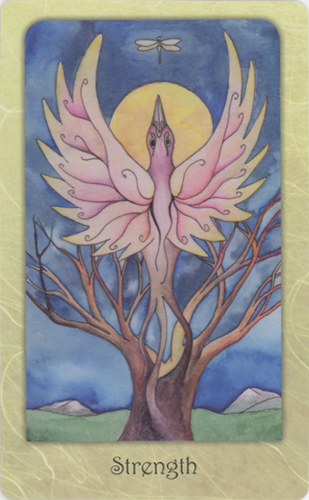 The soft cover book is 128 pages and makes a nice compliment to the deck. It has short & sweet; rather simple descriptions by the artist herself about each card's meaning including straight-up and reverse. The Major Arcana cards are given a description page and an image page; and each card of the 4 suits has a description page with an aspect of its card artfully displayed. With the introduction of each new suit, all its cards are presented together over a two-page layout. The book covers are color and the images inside are in B&W. The book also includes two new spreads made specifically for this Raven inspired deck.

The titles on the cards have a friendly font. The Major Arcana do not include the traditionally associated numbers (Roman numeral or otherwise); which may bother some but supersedes the whole debate on which order they belong. This may pose a minor learning curve to new students; however this deck seems quite intuitive and should be easy enough to feel comfortable working with for the most part. The corners of the cards are rounded and have a comfortable weight, size and thickness and should prove to live a long joyful life of daily readings, meditations or whatever else.

Here is an example of one of Beth Seilonen's Major Arcana descriptions (this card can also be seen to the right).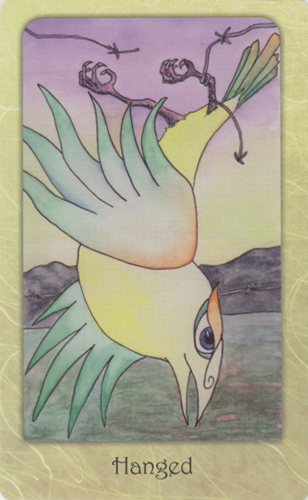 Strength Card:
The Dream Raven draws strength from the Tree of Life with a dragonfly guiding the way to transcend the planes of the physical to ethereal. There is help available when the time comes, but overall, it is through internal fortitude that enables the raven to achieve new heights, even in times of adversity.
Card meaning: The focus for this card is inner strength. You connect to strong forces from within the self and the external world to achieve your dreams. By establishing these connections you are able to ground yourself and pull from the well of strength in times of need.
Reversed: The reverse key suggests that others are tapping into your own well of strength or that you are taking from others to fill your own needs. Reassess your needs that are affecting your actions.

The back of the cards has a double image of reflecting ravens, wings outstretched and facing each other, beak to beak and is reversible (see image below).

I recommend Dream Raven to Tarot readers ~ beginners & advanced alike; both young & old. And also to those collectors, who are attracted to colorful, imaginatively illustrated birds in fanciful settings (and those who also appreciate a well constructed, functional container for which to house their treasured set). This deck & booklet were clearly created with a whimsical heart and it makes a lovely offering. It became available from Schiffer Publishing in late May of 2013 and is also available on Amazon and at popular booksellers.





Dream Raven Tarot by Beth Seilonen
Shown Below: Ace of Cups, 3 of Swords and the Card Backs