Tarot de St. Croix © 2013
* Available - March 2014
* 78-Card Deck & Book, Boxed Set
* Major Arcana: Roman Numerals & Traditional Titles
* Strength is Card VIII and Justice, XI
* Traditional Suits: Wands, Cups, Swords & Pentacles
* Court Cards: Page, Knight, Queen & King
* Cardstock: Semi-Gloss, Standard Thickness (300 gsm)
* Card Back Design: Mirror Image - Reversible
* Card Size: 3" x 4.5" (7.6 x 11.4 cm)
* Art Medium: Original Oil Paintings on Boards
* 96-Page, Soft-Cover Booklet, Full-Color
* Comes in Sturdy 2-Piece Box
* Self -Published with Indie Publishing House - Devera - Spring 2014
* ISBN: 978-0-9858321-9-3
* Price: U.S. $44. (+ P&H Domestic - International)

---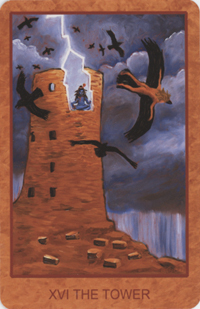 The eagerly awaited Tarot de St. Croix has arrived to dust off winter blues, with its sunny disposition and warm invitation to become immersed in splendor. This is a deck which expresses all manner of emotion while sharing experiences of a multi-dimensional and well traveled existence. A beautifully made personal offering which will translate well to all those who are open to its vision. And well done to Devera, the metaphysical publishing house in Portland, Oregon; which prides itself on shepherding each independent artist and project with practical know-how, support and attention to detail.

The semi-gloss cards are a decent size and thickness, comfortable for shuffling. While the sturdy, brightly colored, two-piece box makes a great presentation; displaying nineteen cards, with the brilliant XIX Sun on top (shown above). The imagery has a welcoming vibe, with amber colored borders and cheerful (san serif) titles in a matching hue. The back side of the cards has a mirror image and is therefore reversible (shown below, right). Much of the artwork in the cards feels at once personal yet universal; powerful though unarmoured; bold but sensitive and sincere. Lisa's likeness (along with key people in her life) can be found throughout the deck, making it apparent that she has lived through these 78 cards with their associated lessons, trials and tribulations while comprehending their implications. The artwork is consistently lovely and inherently symbolic.

The 96-page, soft covered book is a nice companion to the deck. Both are the same size: 3" x 4.5" - 7.6 x 11.4 cm and fit snuggly in the box. This full color booklet is presented with thoughtful consideration; sharing the artist's experiences with the card meanings along with words of insight or practical wisdom to carry into one's own reading or meditation. Those familiar with the Waite-Smith template will feel at home here. In the introduction section Lisa shares three Tarot reading spreads as well as tips on one-card readings and hints on how to work with this deck including journaling.

Each Major Arcana has two pages dedicated to it; with the (color) card image taking up nearly half of one page. Lisa often shares a personal story surrounding the Trump that is meant to inspire or reveal a life lesson. She then includes a brief, more general meaning for the card.

Next, each set of Minor Arcana in the four suits are spread over a two page layout (Minor card images presented smaller than the Majors). So for example, the four Aces (in the order of: Cups, Pentacles, Swords and Wands) have short symbolic and personal descriptions along with general card meanings for the individual Aces. An overall numerological meaning is given above the four card series thusly:
Aces offer the potential of something new that will succeed. Aces are linked to the Magician; the great manifester.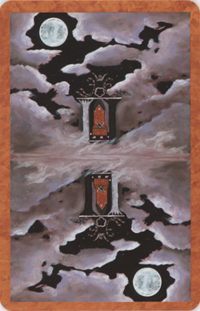 The Court cards follow next; in the order of the four: Pages, Knights, Queens and Kings. Each Court card has its own page in the book, which includes a good-sized image and personal associations along with a succinct interpretive meaning.

There is enough guidance in the booklet to be helpful to the novice while respecting one's own personal associations and process. It should be noted that the book doesn't tend to share reversed card meanings except as associated with personally challenging experiences. For example, the Three of Swords (which most view as the card of heartache, sorrow and betrayal); Lisa describes in a more positive light. She writes:
The flaming heart represents passion. Three needles pierce the heart but one is mending the broken heart.
Meaning: Forgiveness heals betrayal and heartbreak.

For those who like to put a positive spin on things this approach may be appealing. Though one might suspect that Lisa opted for briefer passages to keep the booklet compact and easy to decipher when doing readings. The pages are unnumbered but its easy to find any card meaning since the images are presented in a systematic order and also act as colorful flags. It should also be noted that Lisa goes into much more detail about each card on her Blog. There she often shared what the card represented to her at the time of creation and sometimes what she was actually going through during its inception. Therefore one can find the artist grappling with darker, deeper elements of many of these cards. In the case of this Three of Swords she candidly writes on her Blog of a sorrowful experience with a significant relationship; which she is able to work through with this quasi 'art therapy' process and eventually transcend the heartbreak. In essence, the book shares more of the positive learning aspects associated with the outcome than the personal struggles that lead up to it. So if one is interested in understanding these cards more deeply; it is recommended to peruse Lisa's Blog posts. For example, a personal favorite image in this deck is Lisa's Three of Cups. On her Blog, Lisa reveals the card's personal associations: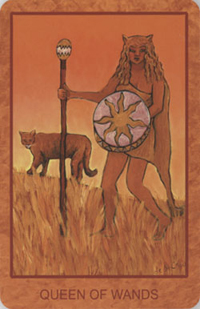 The Three of Cups is a card about friendship and the emotional bonds between people.

On the solstices, equinoxes and cross quarter days; we three meet to play The Tarot Game. We have created a ritual around it. The game involves asking the oracle a question and then the oracle has us tell stories from our lives relating to the tarot archetypes. This gives us the opportunity to talk deeply about our lives and be heard. Answers to our question arrive through this sharing.

But due to space limitations (one assumes), in the booklet this passage is reduced simply to:

Three friends gather to play the tarot game, whilst sharing stories.
Meaning: Cherish friendship and emotional bonds with people.

While it is a positive message connected with this card; the more detailed Blog entry recalls such warm, evocative times with friends...and a more meaningful association.

Having watched this deck evolve and grow online along with a community of supportive Tarotists; while enjoying the creative process and camaraderie surrounding the development of each deeply felt card and experience, it was touching to witness the artist's soulful journey within the nurturing embrace of her facebook friends. She moved through the deck, making each card in a ritualistic, sacred manner; while being open to whatever messages might arise. She candidly shares of her introduction to Tarot and her creative process while making this deck: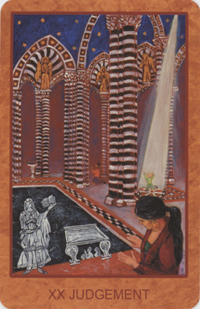 When I was a child of eleven in South Africa, I accompanied my mother to get a reading from a tarot reader on the other side of Johannesburg. As I waited on the wide verandah, I thought about destiny, about wisdom and faith. These were new concepts for me and I was taken by them. The predictions of that tarot reader came to pass; within a year my mother divorced, fell in love with a foreigner and left to live with her new husband on the Mediterranean Sea.

Many years later after my mother had died, through a mysterious set of circumstances the old Marseille deck she had bought from the tarot reader came back to me. I immersed myself in the study of Tarot. I was living in New Mexico near the Zuni Indian reservation. On the winter solstice I did a shamanic journey where I travelled to a small black and white temple in the Upper World. On the throne lay a tarot card of the High Priestess: Isis. She instructed me to paint a tarot deck.

I painted this tarot deck as if it were a tarot reading: receiving divine wisdom. Each time I pulled a card to paint I was amazed how perfectly the meaning of the card related to the world I inhabit. I opened my senses to messages. Synchronicity was my guide. I painted intuitively, having faith that I would convey through the visual medium of the tarot, a message that would have meaning and wisdom.

Another personal favorite is Lisa's XX Judgment card (shown right). In the image she portrayed dear friend and mentor Carrie Paris in the magnificent Cathedral of Siena. As it happens I met both Lisa and Carrie together during a Tarot Art & History Tour of Northern Italy , (which I organize and run along with my husband and our dear friend, Morena Poltronieri - director of the Italian Tarot Museum.) So it is especially touching that Lisa shared a part of the Italy tour experience here; giving a much more impactful and gratifying meaning to a card that tends to be challenging to many Tarotists (including myself). Lisa shared details about this Judgement card on her Blog.

Judgement:
Just having returned from the Tarot Art and History Tour of Northern Italy, I felt inspired to integrate some of the symbolism I had seen into my Judgement card. I was intrigued by the mosaic floor in the Siena Duomo. We were lucky to see it unveiled as only once a year are the floors uncovered. Pagan and Tarot imagery are everywhere. Hermes Trismegistus greets one at the entrance to the magnificent Cathedral. Ten large mosaics of Sibyls line the two sides. The Sibyls are women who prophesize. We found symbolism used in the World, Chariot and Wheel of Fortune tarot cards in other panels.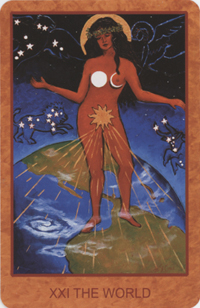 One of the original meanings to this card was "Judgement Day" so I contemplated what that might mean now to the people who read tarot. Fundamentally I think that what we believe is what we receive. To the innocent child twirling in a beam of sunlight, there is no elaborate morality, just the purity of the moment, connected to all that is. Under the child's feet spins the Wheel of Fortune.

Judgement as an act of discernment is another meaning. As I visited these Catholic Cathedrals I felt waves of judgement roll through me; both awe at the mastery of the artists and artisans and horror at the sacrifices, the cruelty and domination of the church. The man in the background of my painting kneels praying to the Archangels. Does he fear their judgement or is he bowing to their beauty and grace?

Another meaning of Judgement is an awakening, the call of the soul to a new paradigm. In front, standing beside the Sibyl is my dear friend and teacher Carrie Paris who I shared the tour with. I witnessed one of her teachings made real as she entered the "Fourth Level of Understanding: The Sacred Gaze". Like the Sibyls, we tarot tribe have faith in the prophetic messages that come to us through divining.

The Judgement card asks you to look at your beliefs and decide if they work for you, opening yourself to the possibility of another way of believing.

Tarot de St. Croix is a powerfully expressive, yet warmly accessible deck; made by an artist who shares deeply of her inner and outer spiritual realms. This deck is recommended for Tarot readers, both beginners and advanced, and for collectors; especially those who appreciate uplifting, life affirming meditations with the cards. This deck set became available March 2014, and can be obtained directly from Lisa de St. Croix's website or on this page from Devera Publishing.



---
With Tarot de St. Croix, Lisa imparts to the spiritual traveler her personal experiences while navigating these ancient, sacred paths which we share. This hand painted deck is a colorful, dazzling, multi-faceted gem and her story will touch those who journey with her powerful work. Good medicine for the weary soul and inspiration for those seeking a kindred spirit!"
- Arnell Ando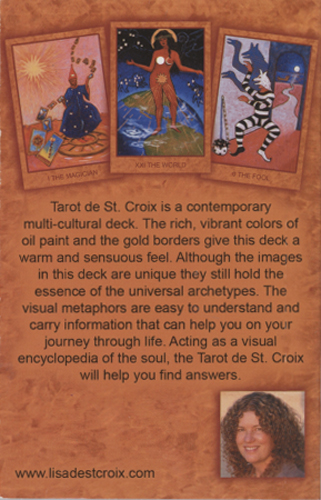 Above: Back Cover of 96 Page, Full Color Booklet

Examples of Tarot de St. Croix: Three of Wands, Cups, Swords & Pentacles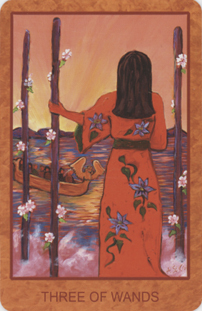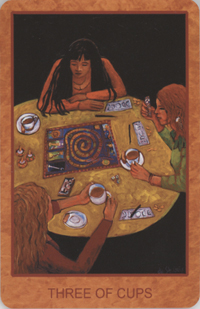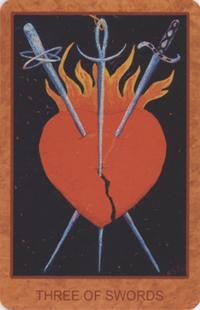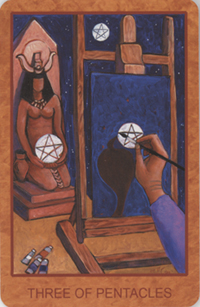 ---
Lisa de St. Croix was born in Johannesburg, South Africa. She received a Bachelor of Fine Arts from the School of Visual Arts in New York. Lisa has exhibited paintings in New York, Boston, Santa Fe and many other places in the U.S. She has also held international exhibitions in South Africa, France, Portugal and Mexico. She was awarded the New Mexico Arts Purchase Award twice. Her paintings are in many private and public collections. Ms. de St. Croix's artwork hangs in several hospitals, as well as the Corrales Court House and the New Mexico University. Lisa has taught many art workshops throughout the world. She has designed sets, written and produced puppet shows and painted several murals on public buildings. Her paintings and art journals are inspired by her experiences, travels and shamanic journeys. She now lives in Santa Fe, New Mexico where she teaches art workshops. This self-published deck set became available in early spring of 2014. Lisa shares of her own creative process:

The rich oil paintings of Tarot de St. Croix transcend time to portray the tapestry of life and the journey of the soul through it. I was inspired by the world I witness, my visions and synchronicity. My time traveling and living amongst different cultures is represented in vibrant colors and symbology. The images hold the energy of the universal archetypes.

Aside from the deck, any of the 78 card images are also available on high quality archival print cardstock. These gorgeous, limited, signed prints with numbered certificates are available on this page of Lisa's site and make an impressive presentation. (Shown below: a 7" x 12" Sun card, nicely matted & framed for my home). And experience the deck as it unfolded on Lisa's Blog.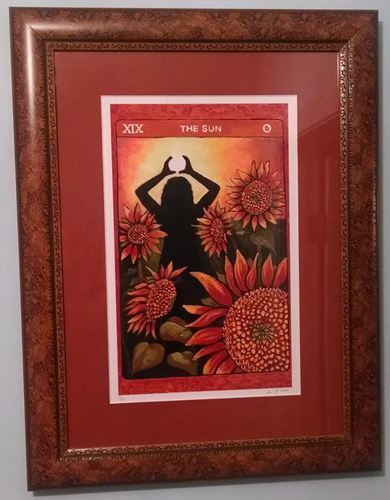 ---