Tarocchi Al Top, I Tarocchi di Bologna - (Magic Bologna 'Al Top' Tarot)
Artist: Mariarita Frazzoni
Two Versions Currently Available:
A very large - 6 x 9'' (15.24 x 22.86 cm) deck & wooden box set,
signed & numbered, and limited to only 30 sets
Or a large sized deck 4 x 6'' (10 x 15 cm) signed & numbered and limited to 300 decks
Text: LWB (English version edited by Arnell Ando available upon request)
Number of Cards: 22 Majors + Title Card
Theme: Paintings of historical scenes of Bologna as related to Tarot
Cards have Roman numerals & are titled in Italian with landmarks in English
Cards on quality, textured cardstock, backs are blank
Includes an additional title card, numbered & signed by the artist
Published by Museo Dei Tarocchi - Hermatena
Packaging: (depends on the version, see details below)
Price for very large, limited special edition: € 350.00 Euro + Italian P&H
Price for regular version (limited to 300 sets): €35.00 Euro + Postage
*Special price for U.S. Customers Below

Description: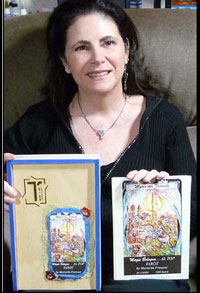 Tarocchi Al Top, I Tarocchi di Bologna is a beautifully made deck, rich with history and symbolic detail, painstakingly produced by Museo dei Tarocchi. A very limited edition is offered, consisting of only 30 numbered sets, signed by the artist, Mariarita Frazzoni, a well known and beloved illustrator of children's books in Italy. A more affordable, regular sized version is also now available, due to popular demand. The art in this deck is a symphony of colors, crowded scenes of characters and prominent landmarks showcasing this extraordinary city that has held tight to its deep roots to the past.

As an underlying theme, the cards are populated by darling little mice that add humor and charm to the more serious, historical nature of the deck. The Death card has a mischievous looking cat enjoying a deadly game of cat and mouse. 'Al Top', found in the title of this deck means on top in Italian but also refers to mouse.

The way this particular deck was printed looks almost as if each card is a hand painted work of original art; the colors practically jump off the page (especially apparent with the jumbo sized deck, but also looks great in the regular sized version). It is printed on high quality, textured paper (it looks and feels like watercolor paper). The cards for the very large (6 x 9'' - 15.24 x 22.86 cm) version are probably not meant for actual card reading but more as a meditation and study of Tarot, specifically Bolognian ancient esoteric and Tarot history. An English version of the LWB is available and well worth reading as it shares a fascinating history of the city of Bologna steeped in magic and lore. Bologna is in northern Italy and is the larger county in which the Tarot Museum resides. A series of tours throughout the city were made in order to research and discover the mysteries and magic of the distant past. Each illustration depicts a magical place set in the Middle Ages of Bologna. The art style is reminiscent of fairytales since that is the style associated with this famous Italian illustrator, Mariarita Frazzoni. The paintings were created using a variety of mediums including pastels, inks and watercolor, resulting in a richly colorful deck, playful in nature while also relaying a fascinating and factual account of ancient Bologna.

The very large version of this deck (limited to only 30 sets) comes in a wooden box which slides open. The top of the box is collaged with a smaller version of the title card, fastened onto dyed papers and secured with the Museo's signature hot wax seal. The photograph shows how large the set is and the deck comes nestled securely in the box with netting. There is a wood burning of the Museo's logo on the box.
The other (4 x 6'' - 10 x 15 cm) version of the deck, (limited to 300 signed & numbered copies) comes in a book-style cover, tied with twine. It is also printed on slightly textured off-white cardstock. Both versions have blank backs and either is an exceptional collector's deck and a truly remarkable view into the long Italian lineage of Tarot.

Tarocchi Al Top, I Tarocchi di Bologna - Magic Bologna 'al Top' Tarot
Cards shown: Title, High Priestess, Hierophant, Justice, Strength, Death, Tower, Moon & Judgment
For U.S. Customers - an option to order this from Arnell (in USA)

Special Price for Large, Deluxe Ed. (Limited to 30 Signed & Numbered): $328.
Only 1 in Stock (Includes English Translated Leaflet)


OR
Special Price for Standard Version: $35.
Currently in Stock (with English Translation Leaflet)

If supplies run low on popular Museo dei Tarocchi decks, an order is placed, so e-mail Arnell if you want to order any decks they publish.

Or Place an Order with the Museo Dei Tarocchi Directly

E-Mail Morena Poltronieri (Museum Director) for details.

Brought to you by Arnell's Art

Back to Arnell's U.S. Inventory & Reviews of the Tarot Museum Decks

Close This Window