Specs in a Nutshell:
* Limited to Only 25 Handcrafted Sets
* Self -Published: November 2013
* 22 Major Arcana (+ Signed & Numbered Title Card)
* Cards: Roman Numerals & Traditional Titles
* Justice is Card VIII and Strength is XI
* Medium: Painting with Metallic and Iridescent Inks
* 24-page Handmade LWB Explains the Symbols & Shares Meanings
* Oswald Wirth Spread & Reading Tips Included
* Cardstock: Soft-Sheen Metallic Fronts
* Matte Card Back: Reversible
* Size: 5 x 3.25 Inches - (12.7 x 8.3 Cm)
*Comes in Painted Gift Box with Title Card Fastened to Front
*Price: U.S. $65. (+ P&H Domestic or International)
* April 2019 Update: A New Version is now available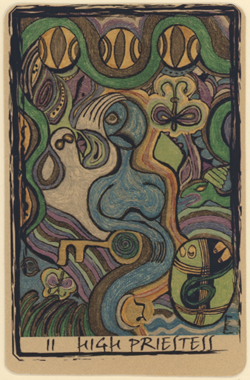 Eric K. Lerner has created an unusual deck; challenging to describe but captivating all the same. The art is rather abstract at first glance but offers recognizable symbols if time is taken to focus on their various elements. Most of the cards have a lot going on within them and seem willing to share their revelations. And the booklet gives generous hints to each card's meaning as well. The hand painted box effervesces with a rainbow of colors which compliments the deck nicely.

This limited edition set was crafted with great care and attention to meticulous detail, despite obstacles Mr. Lerner encountered while attempting to make a deck with metallic and iridescent inks (which he notes are notoriously difficult to reproduce in deck form). But staying true to his vision he persevered despite months of setbacks and experimental failure and was eventually able to create an alluring & unique approach to the Major Arcana. The original art for this deck, (as Mr. Lerner explains in the intro), was created nearly a decade ago as a personal distraction amidst intravenous tubes, oxygen tanks, and physical traumas that can accompany someone providing end of life care for a loved one. While making the deck he was grappling with trying to find meaning in life while facing death. And even now as he recreates his art into deck form, one gets the strong sense that he refuses to take the easy way but instead attains a chef-d'oeuvre with slow, difficult and deliberate aim. Holding this precious deck one senses the quiet power of an artist's arduous but graceful journey towards transformation. And by meditating with each card the mind's eye is able to connect various symbols that inhabit these trumps and perceive a greater pattern that connects them all.

The 24 page booklet shares useful details on what the artist envisioned along with meanings for doing readings. For example, the VII Chariot card (shown below) is succinctly described in the LWB thusly: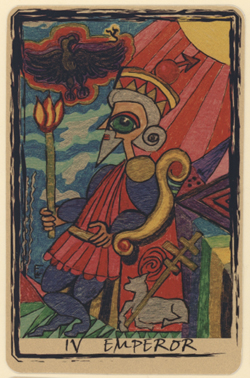 Reaching a desired acquisition or goal, whether it's a grail or simply a rest spot to knock back a drink, seems easy as if the means of transport is drawn by lovely birds, and one hopes to glide through as if flying on some one else's wings. However, any serious endeavor usually requires a delicately wrought underpinning like a spider's web and the steadfast foundation of a cube.

+ Boldness to proceed on a venture with ease. Enjoyable trip or vacation. Initiation. Attainment of a goal is a forgone conclusion. Knowing to ask first whether a quest is necessary.

- Feeling that initiation is the end rather than beginning. Car wreck. Not reaching one's goal. Being overwhelmed by too much caution, distractions or obstacles. Lack of caution.

Here is a 2nd example which shares the XX Judgment Card's interpretation (card is shown to the right):

Maybe the most Christian image in tarot iconography, directly drawn from the notion of an apocryphal angel sounding a trumpet to awaken the dead at the hour of judgment. An image of resurrection? A call to a spiritualized form of existence? The dead join gods to become god forms in the memory or reverence of future generations. Ruddy, erect and pleading to be pleasing, who are they now? Are the butterfly/moths as born again souls or souls that flutter away to be born into a better realized life?"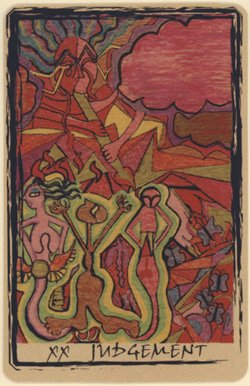 + Transformation, fresh start, self-realization, miraculous recovery. Mortals become immortal.

- Seduced by the ethos of an old or new age. Underestimating the gravity of a given situation. An agitated feeling of fatality.

The cards have a soft metallic sheen on the fronts with a matte backside. They may in fact prove difficult to shuffle in the traditional manner but everything about this deck seems to demand slow, deliberate action & attention. While it might not be the best for doing quickie readings the deck does have an alluring sensation; the card fronts contrasting dramatically with the backs in both a visual and tactile sense. They seem to almost whisper cryptic messages in muted hushes as one card brushes against the next. Mr. Lerner must have been conscientious about making this set with a certain energy beyond the colorful scenes populated with symbols which distinguishes it as a meditational tool and source for visualization.

This is a luminously shimmering gem that will likely be discovered by a handful of lucky collectors before its production of only 25 handcrafted sets are quickly snatched up.

It can be ordered directly from the artist's site which has articles that may also be of interest such as a piece dedicated to fellow artists on the pros and cons of using various art mediums for the purpose of deck making. Also a useful table of Hebrew letter assignments for use with the Radiant Spleen Tarot as well as traditional planets, zodiacal signs and elements which Crowley also developed along with his system of body part and illness correspondences for Tarot (originally found in his book 777).


Radiant Spleen Tarot by Eric K. Lerner
Limited to 25 Signed & Numbered, Handcrafted Sets
Sample Cards First Row: VI Lovers, VII Chariot and XII Hanged Man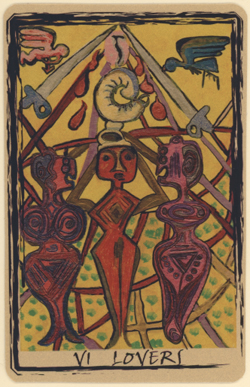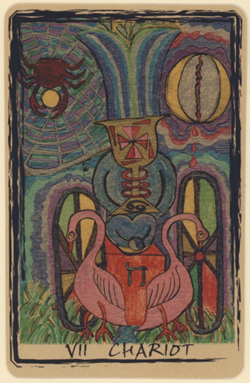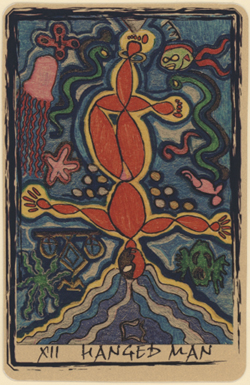 Below: XIX Sun, Card Back (of Signed & Numbered Title Card), and LWB Cover