---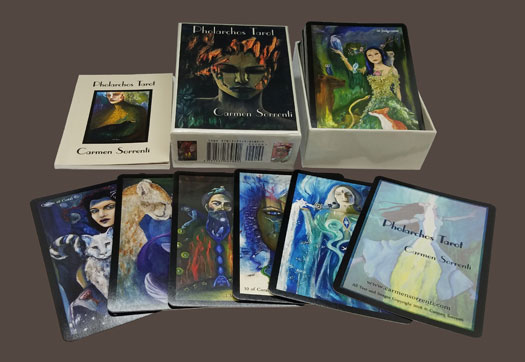 Pholarchos Tarot is a powerful deck created from an artist's free spirit and well-travelled, imaginative dream world. A thoughtful and compelling offering that invites those of us open to its visions, to explore the deepest parts of our psyche. I am delighted and honored to be part of the production and distribution of Carmen Sorrenti's intriguing work.

Deck Set Details
The sturdy cards have a soft sheen and are of good size, comfortable for shuffling and seeing details. Black borders set off the powerful art elegantly. The card backs have a lovely winged spirit, connected to the Hermit card's symbology (not reversible, shown towards bottom of this page).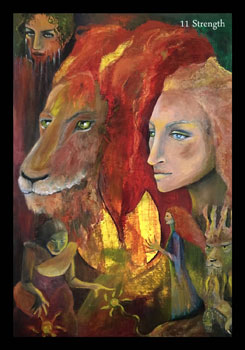 The 40 page, soft covered book is a captivating companion. Both deck & book (3.5 x 5 in) fit snuggly in the 2 piece box. The booklet shares poetic passages of Carmen's imaginings along with her deep understanding of Tarot, alchemy, mythology, dream work and astrology. The booklet has color images of the Sun and Moon as well as a few full-page color images scattered amongst her musings and descriptions. In the introduction Carmen shares a bit of her personal journey and inspirations for creating this deck. Here's a snippet:

The mythic imagination is expansive, able to hold contradiction, mystery, metamorphosis. The imaginal is real and needs tending—it is our relation to it that can be more or less fantastical. Humans have always looked to myth, dream, theater, story to find a sense of meaning and guidance. Prediction can be diminutive while story opens understanding and possibility, a way of working with one's destiny and patterns. Liz Greene reflects that "like all symbolic systems, tarot is about patterns rather than events". These cards are an attempt to open inspiration, a possible experience of an archetype that invites personal investigation into life's depths.

illuminating A full-length companion guide for Pholarchos currently available for free download until the Practice Manual is ready!


The Aces (shown below) and the Trail of Sparks, Spirals, Wings and Coral (the Knight cards) are in black & white, in striking contrast to the rest of this colorful deck, while also representing perhaps, times when we dwell between this realm and the dreamworld or other dimensions. The card meanings intertwine and communicate with each other. And the more one works with this deck, one senses cards sharing conversations and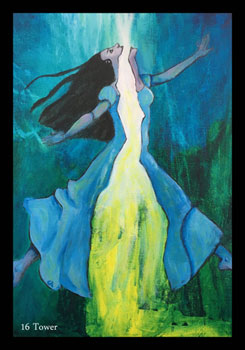 parallel themes with one another while weaving wisps of intrigue and mystery between the lines. Carmen shares:

Alchemical language is scattered through the cards, as is its fundamental sense of timing signaled but not dictated by the planets measuring the sky. This is a world of correspondences and how could the soul not be part of this communal language? Within this, according to passion and inclination, alchemists have always taken the freedom to experiment with their art when seeking to make gold or an authentic self.

The lwb (booklet) is written in an evocative, poetic style that invites us to ponder and muse over card meanings, perhaps finding ourselves within them or discovering new perspectives. For example, here is the text for two Major Arcana cards (images shared on this webpage)...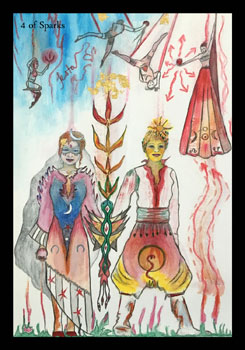 11 Strength:

Inside your belly. The lion's hunger insatiable, its eyes yellow alarm, claws ready-made scythes. It will not hesitate to rip right through you and make a mockery of your life in order to find food. It will have you unless you turn and look into those eyes, offer of yourself. Exchange on its own terms. Then it will, like the cards of old, open its mouth for you and let you take what you need when you need it. Your resolve and your fortitude must shine forth. Do not think you can bypass the wild center—it generates your will to live. Etch its mane somewhere along the castle walls, feed it the flesh of your devotion, practice touching your molten core.

16 Tower:

The elemental forces all rush through you. Will it be a trial by fire, water, air, earth or all of the above? Lightning strikes and splits your soul into a thousand colors. This is an awakening. Every particle gets charged and when you knit yourself back together, the transmissions work differently; you may need to learn a new language that bonds you with the world. Here is the complete annihilation, the revisioning, a new incarnation in your old body. The ancients called this the "House of God"—are we ever prepared for such a meeting?

A compelling thing about this soulful deck are the Minor Arcana. While the Majors are lush paintings, the Pips, aside from the Aces (and Royals) seem like they were taken from pages in the artist's sketch book, with intricate symbols and the occasional scribbled message. This approach feels intimate and candid, as if we are privy to her secret thoughts and personal correlation with the cards.

Pholarchos Tarot is a profoundly expressive deck. It is at times whimsical and playful and in other instances deep, dark and full of mysterious intrigue, with tales to tell. Created by an artist who passionately shares both her inner and outer creative realms. This deck is recommended for artists, collectors and intermediate and advanced Tarot readers, especially those who enjoy soulful meditations with the cards and intuitive readings.

* This meaningful walk-through of Pholarchos Tarot by Tom Benjamin shares the full deck, along with insightful observations & excerpts from the booklet.

* Happy to share this interview by Diane Wilkes, in Cartomancer.

* Carmen's brilliant, beautifully written, full-length Companion Guide for Pholarchos Tarot is available FREE, until the Practice Manual is ready here.

Pholarchos Tarot: Standard Price Was: $40 + P&H - Now on Sale for Only $32.+ P&H!
(Sent USPS Priority/Insured).
Postage for Double Orders Same as for Singles!

Choose from Options in Drop-Down Window: USA, Canada or Overseas, Priority Mail - One or Two Decks.


For our friends in Europe, this shop carries Pholarchos Tarot

And an online shop in Australia carrying Pholarchos Tarot

Pholarchos Tarot is also available at the historic Theosophical Society's shop: 'Quest' And in Batavia IL at 'Healing Arts'.

Please let us know if you have or know of a shop wanting to carry the deck. Thank you.


---


Royals: Dreamer of Wings (Swords), Trail of Sparks (Wands), Queen of Coral (Cups) & King of Spirals (Coins)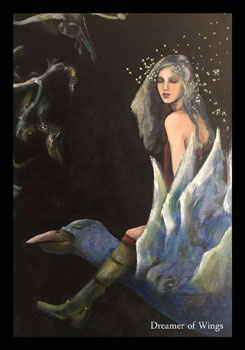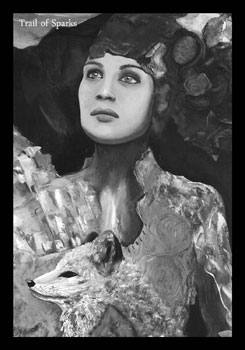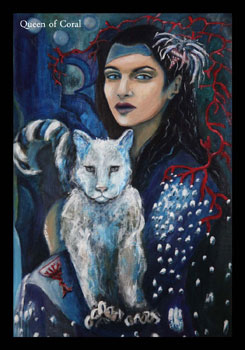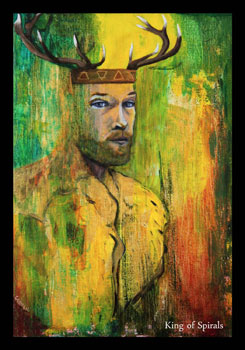 Ace of Sparks (Fire/Wands), Ace of Spirals (Earth/Coins), Ace of Wings (Air/Swords) & Ace of Coral (Water/Cups)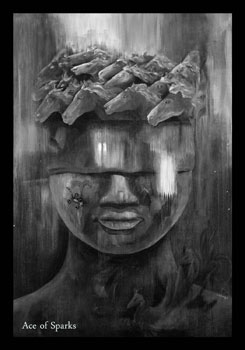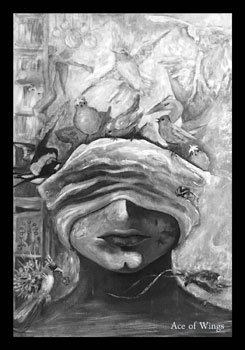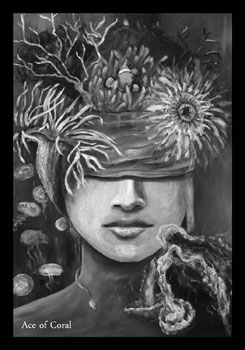 ---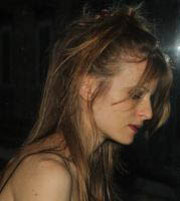 About the artist/author of Pholarchos Tarot:
Carmen Sorrenti was born in Positano, Italy, where she grew up with an Australian mother and a gang of international artists. Her early food consisted of mystical Persian poetry, Hungarian cartoon strips, singing drag acts and a host of different languages. After training at Guildhall School of Music and Drama, London, she toured with theater companies, worked at the Abbey Theatre in Dublin, in Martin Scorsese's "Gangs of New York" and opposite John Turturro in "Secret Passage". Playing Philomele in Wertenbaker's "The Love of the Nightingale" sparked her interest in mythology which led her to Liz Greene's Centre for Psychological Astrology. Simultaneously, profound experiences in dreams triggered an ever deepening exploration through painting and depth psychology. Plant visitations were a major part of these nightly encounters and they revolutionized her worldview. Carmen is the creator of the Pholarchos Tarot, a visionary 78 card deck based on dream incubation and alchemy. She is a certified dreamworker (DSI, Scott Sparrow) and is currently pursuing post-graduate studies at LIT: "Art, Psyche and the Creative Imagination. She leads workshops on dreams, talismanic art and tarot.

Carmen has contributed to various publications including painting book jackets. Her deck's Moon card won the Premio Giorgione for Alchemical Painting. She was also selected as a Top Ten Artist for the New York magazine ~ Art511mag.

Along with the Pholarchos Tarot deck, the original paintings became available at various galleries and special events from 2018, such as the Algonquin Club, SoWa, as well as Gold Coast Gallery, (Boston, MA) and a month long exhibit in Rome. Visit Carmen's site for updates and upcoming events.

Happy to share this interview by Diane Wilkes for Cartomancer. Also Ms. Wilke's compelling Review of this deck which was featured in a subsequent issue of Cartomancer .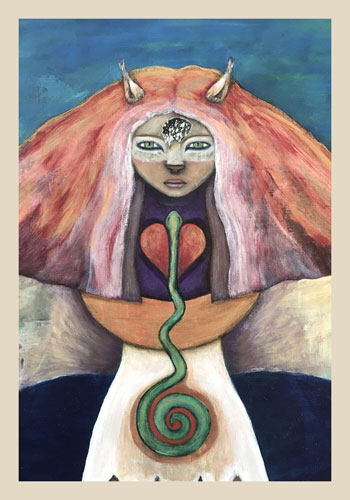 Card Back for Pholarchos Tarot
Feel free to contact publisher, distributor, Arnell Ando for questions, comments & inquiries. Thank you!
Pholarchos Tarot is copyright protected.
Card images may be used on blogs/websites as 'Card of the Day' endeavors or for review purposes but must contain artist's
site
along with
Pholarchos Tarot by Carmen Sorrenti.
The images are not to form part of written teaching material or otherwise be used without prior consent from artist,
Carmen Sorrenti.
Return Policy:
For US Customers & internationals who have insurance: If package appears damaged upon delivery, please take photo prior to opening, as well as picture of damaged contents. This will help us receive insurance compensation to replace your deck(s).
Otherwise, as a small, independent publisher we can't guarantee every deck will be as perfect as we'd like. Please be aware that there may be inconsistencies in color or in the trimming of cards. We are sad when anyone is unhappy for any reason, but cannot cover all costs for every reason and continue to stay in business and bring these special decks to you at this reasonable cost.
If you are unhappy with your deck, you may return it. At your request, we will either refund money or replace your deck, but we must first receive the defective product. We will not ask you to pay for reshipping a deck to you, although this is a loss for us. However, we cannot pay your cost in returning the deck to us and incur that loss as well.
The only exceptions to this return policy are egregious damages. For example, if the cards arrive ripped, creased, or printed askew within their shrink wrap. In such cases, please send proof and we can either mail you the cards which arrived damaged and/or reimburse you for return postage costs, upon our receipt of the damaged deck.
Regarding international shipping:
U.S. postal rates, went up again January 2019, but I have so far not raised them here. We have no control over their fees. Good news tho, Priority Mail does include insurance. Deliveries outside U.S. are occasionally subject to local customs or possible import duties, payable by recipient of the order to the local customs authority. Any such fees are out of our control here in the U.S. When processing order, we will e-mail postal confirmation/tracking number, however some countries do not use the same
tracking
system. It typically takes 7 - 10 business days, depending on international customs. International phone number if you want to track a slow package: 1-800-222-1811. Thanks for your support of this heartfelt offering.