Sunrise and Sunset Tarot
Two Major Arcana Decks of 22 Cards Each
Theme: Surreal Collage
Artist: Giovanni Monti
Leaflet: in Italian & English Shared by Artist (English Edit - Arnell Ando)
Published by Museo Dei Tarocchi - Mutus Liber - Spring 2016
Printed on Semi-Gloss Cardstock
Cards: Numbered, Untitled
Back: B&W Design w/ Narrow Gradient Border (shown), Not Reversible
Standard Sized Deck: Card Size 14 x 9.5 cm, (5.5 Inch Long by 3.75" Wide)
Both Decks Shrink-Wrapped, Nesting on Straw, in Cardboard Box w/ Title Cards & Wax Seal on Lid
Standard Set Limited to Only 100, Hand-Numbered Sets, Signed by the Artist
€ 60.00 Euro + Italian Postage
*Special Price - Standard Size, Double Deck Set for U.S. Customers Shared Below (via PayPal)
Details on Deluxe Version Revealed Below

Two Unique Decks... Two Ways to Know Yourself & Others

Acclaim from Ruthanne Martin, of Abracadabra Tarot - author & professional reader for over 30 years:
…The cards are stunning, evocative works of art and divination. I love the backs of them as well. Two surreal Major Arcana decks, one focusing on questions of growth (Sunrise) and one focusing on issues surrounding detachment and closure (Sunset).

And an early Review by Bonnie Cehovet, for Perspectives on Tarot.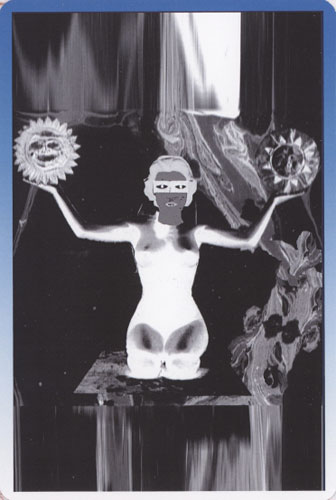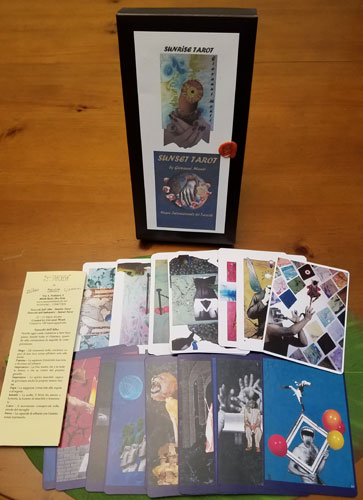 Description: Museo dei Tarocchi intrigues the senses with Sunrise and Sunset Tarot: Double trump sets that, when combined, give more dimensional readings which focus on the most mystical, mysterious periods of day. From obscurities of darkness at dusk to brightened prospects by dawn, these cards help recognize shadows and transform them on an illuminated path. If you need to know the outcome of a new project, you might refer to the Sunrise Tarot. Otherwise, if you want to understand how to detach from an issue or turn it into opportunity, perhaps work with the Sunset Tarot. To recognize both aspects and gain more depth and perspective, these two decks are best together.

Sunrise Tarot
(Description in accompanying leaflet)
Because each card begins to brighten one's view until everything becomes clearer, so that wisdom can follow understanding...

0-Fool
A lightness of being capable of dancing within the circle of zero.

1 - Magician
Tools of consciousness capable of working with the light without relying solely on the mind.

8 - Strength
The ability to relate to instincts without repressing.


17 Star
Horizons to explore dimensions or perspectives anew.


Sunset Tarot
(Description in leaflet)
Because the approach of nightfall brings attention to the hidden nature of darkness...

2-High Priestess
The alchemical Bridge connecting knowledge to wisdom.

8 - Strength
Human and animal aspects merged into a single unifying force.
17 - Star
A need to focus only on what truly guides awareness.

18 - Moon
The fear of missteps while walking in darkness.

About the Artist
Giovanni Monti is a painter, photographer and video artist who manages the exhibition space 'Fantomars' in Bologna (Italy). He also writes a popular art blog. His distinct, unique deck creations: Sunrise & Sunset Tarot are more than a surreal look at the Major Arcana. The Dark and Light contraposition of dreamy collages may awaken primal desires, dreams and also unveil hidden concerns, trepidations and obscurities as you meditate with the cards. The original artworks are on permanent exhibit at the International Tarot Museum (Riola, Italy). Also check out another cool deck by this artist called Tarot of Breath (Tarocchi del Respiro), which was published by the Museo a decade earlier, in 2006.

This trippy, double deck set is recommended for Tarot collectors and those drawn to collage art with layers of meanings that's both enthralling and relevant.
---
Sunrise Tarot: bright, surreal collage landscapes with uneven edges, set within white borders. Each card begins to brighten one's view until everything becomes clear, so that wisdom naturally follows perception
9 Card Examples Shown Below:
1st Row: 0-Fool, 1-Magician, 5-Hierophant,
2nd Row: 6-Lovers, 8-Strength, 12-Hanged,
3rd Row: 16-Tower, 17-Star, 18-Moon
---
---
Sunset Tarot: The approach of nightfall brings attention to a hidden, mysterious nature of unknown darkness.
9 Card Examples Shown Below:
1st Row: II-High Priestess, V-Hierophant, VI-Lovers
2nd Row: VIII-Strength, X-Wheel of Fortune, XII-Hanged One
3rd Row: XV-Devil, XVI-Tower, XXI-World

---
---
To Place an order directly with the updated
Museo Dei Tarocchi shop
U.S. Customers:
If supplies run low on popular decks, an order is placed, so
e-mail Arnell
if you want specific merch.

Standard Size, Double Decks of Sunrise & Sunset:
Card Size: 14 x 9.5 cm - 5.5 Inch Long by 3.75" Wide. Limited to Only 100 Sets, Hand-numbered & signed by Artist, Giovanni Monti
An option to order from Arnell Ando (in New Mexico) at the
Special Discounted Price of only: $58.+ Priority Mail/Insured Within U.S.
Standard Version
Currently in Stock


DELUXE SPECIAL EDITION
Specs: Double decks in a luxurious wooden box with Title cards & Museo's hot wax seal on lid. ONLY 30 SPECIAL SETS AVAILABLE! Includes 20 Postcards + 1 print of any illustration from SUNRISE or SUNSET TAROT (please specify). Size: 9.25" H x 6.25" W (23.5 x 15.9 cm) hand-signed, by artist Giovanni Monti. Price: €.150. + Postage from Italy. Deluxe version available exclusively from Museo dei Tarocchi while they last.

E-Mail Morena Poltronieri (Museum Director) for details.


E-mail Arnell Ando (Museum's U.S. Representative)

Brought to you by Arnell's Art

Back to U.S. Inventory & Write-ups of Tarot Museum Decks

Back to Tarot Museum Mini Site Home Page

Close This Window