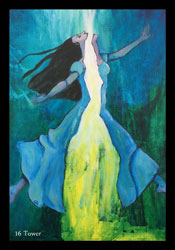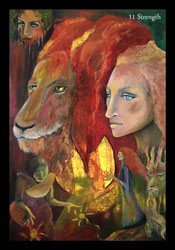 When I was a little girl having a Tarot deck was so special and such secret bliss, embracing moments of quiet solitude, while exploring my deck and its intriguing images… Well now I'm 50 and still the cards teach me and are a constant companion.

Tarot has become very popular over the last few years; where once a deck was rare to find, nowadays so many packs are available, it's quite overwhelming.

I have been so blessed to make a career out of Tarot Reading but at times, the magic of discovery can be lost and many decks seem to blend into one….

The allure of this deck has enchanted me from the start—not only did it come from a land far away, but its freshness and uniqueness excites me. Every card is an experience, each one a work of art!

As I opened the box I was presented with the TOWER on the Title card. Oh, how the truth of this card has been captured—it is only when we are broken that we see the light and as the Pholarchos Tarot meaning explains "splits your soul into a thousand colours". The awakening.
What an entry into this special deck.

From the Aces depicted in black and white, (alluding perhaps, to possibilities as yet seen clearly), to the Major Arcana, full of brilliant color and feminine wisdom, Carmen Sorrenti has created a deck that goes behind the veil and energizes this old Tarot Reader.

As I sit and ponder Strength on my Altar, I recognize the tears and scars that have given her Wisdom. And that she is one with her Wild Self. She who will not be tamed.

This deck is a gift - my journey with it has only begun. The beauty and enchantment of Pholarchos Tarot invites much more exploration while discovering all its many treasures and secrets.


Art Medium: Acrylic Paintings and Sketch Drawings

78 Card Deck

Non-reversible Backs (Original Design)
Justice: 8 and Strength: 11
Major Arcana: Traditional Titles
The Four Elements Represented By: Sparks, Spirals, Wings and Coral (Fire, Earth, Air, Water)

Deck Size: 8.9 by 12.7 cm (3.5 x 5 inches)


Court Cards: Dreamer (Page), Trail (Knight), Queen and King

Review by: Cathy Violet, Seasoned Tarot Reader, Australia