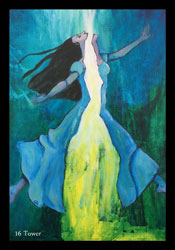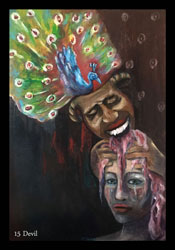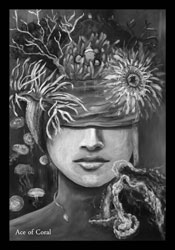 The Pholarchos Tarot, by @carmensorrentiart and published by Arnell Art is a beautiful work of art. I'd seen it on Instagram and on @thecartomancer morning message. I ordered it before she'd even finished filming.

It comes in a two piece box, with a nice booklet. The cards are oversized with glossy cardstock. It is difficult for my hands to riffle shuffle. It has definitely provided me with new perspectives on some of my favorite, and not so favorite, cards. The Knights and the Aces are all done in black and white, the artist suggests that this is the time when we are in-between realms.

16 Tower - I see the chasm between who we were and who we're becoming. For me the focus is straight into the abyss. If you can't face it, you can't cross it.

Trail of Sparks (Knight of Wands) - This is the breath before action, the moment between knowing and doing.

Seven of Sparks (Wands) - " She's living in a world, and it's on fire. Feeling the catastrophe, but she knows she can fly away. Oh, she got both feet on the ground. And she's burning it down."
Thanks, Alicia Keys. You said it better than I could.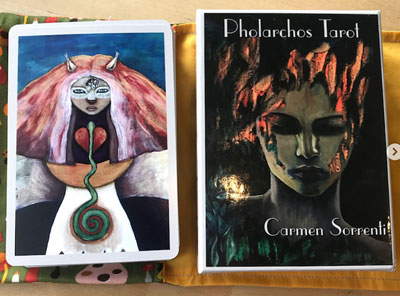 Four of Sparks (Wands) - Alignment on EVERY level. It's all so good, so connected. Celebrate.

15 Devil - They'll eat you if you let them. My papa used to tell me that and the first time I saw this card I heard his voice and finally understood. It doesn't matter how pretty, how shiny, how much everyone else loves them. When they feel intimidated by you, they will eat you. Will you let them?

Seven of Coral (Cups) - When our dreams crash into our reality, can we see our truth, can we hear our soul?

Ace of Coral (Cups) - here we remove the color and love becomes still. No longer a verb. What does yours look like? Is it blooming, is it obsessive, is it free? Is it Free?

Eight of Wings (Swords) - This card is forever changed for me. What happens when we create that space with all of those swords and cords and blindfolds so that we can reset? What happens when we negotiate our own rebirth? We get to decide who steps out of that circle, and more importantly, we decide who goes into it.

Review by Amanda Bell ~ @saltandshadowtarot - on Instagram (Sept 6th 2018) - Witch, Reader, Teacher