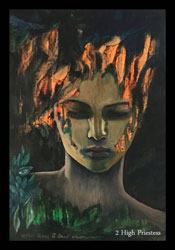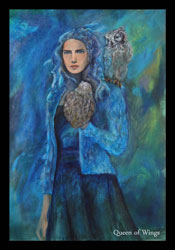 I received the Pholarchos Tarot deck by Carmen Sorrenti recently. I had caught sneak peeks online but wanted to be surprised when it arrived. Somber yet glowing, the artist's gorgeous image of the High Priestess, with dark eyes gently closed in meditation, graces the front of a beautifully crafted box, at once recognizable as another impeccably designed deck by Arnell's Art Publishing.

The cards are a joy to handle, with just the right amount of weight, thickness and soft shine. The image for the card back is well chosen, a mysterious feminine feline-human being who holds you with steady green eyes, generous heart and spiraled serpent. Shuffling through the dreamy imagery, I am struck by the unifying color palette that the artist has chosen; deep tones and soft yet vibrant hues. I want to wear those colors, they have a healing quality.

One of my favorite cards is the compelling portrait of the Hermit and includes an echo of the image from the card backs. I read from the booklet: "the farther you would travel out, the farther you must travel in; discover what is needed and what is possible." Being an avid dream explorer and journal keeper, this card is perfect for meditation as I drift off to travel farther in.

I am also drawn to the Queen of Wings (shown left), a stunning portrait of a woman with a steady gaze and two owls, awash in the most beautiful blues and greens.

Also interesting to note that among the cards are a few well chosen black and white images (the 4 Aces as well as Trail/Knight cards). This has a surprisingly restful effect allowing me to pause and reflect quietly whenever they appear in a reading or meditation. Incidentally, the Trail cards, which represent the Knights, are feminine with the exception of Trail of Spirals (Coins), shared on this page.

I highly recommend this beautiful deck from Carmen Sorrenti, published by Arnell's Art.


78 Cards: Yes

Reversible Backs: No
Justice: 8, Strength: 11
Standard (RWS) Titles of Major Arcana: Yes
Traditional (RWS) Suits: Yes
Traditional Elemental Associations: Yes, with unique titles
Four Elements Represented As: Sparks, Spirals, Wings and Coral (Fire, Earth, Air, and Water)

Standard Tarot Deck Size: No, larger (3.5 x 5 inches)


Court Cards: Dreamer (Page), Trail (Knight), Queen and King

Review by Leslie Hinich Cochran Author, Artist and Creator of Dreamythology Tarot