This document outlines what we agree to provide and what you as a tour member agree to in return. This is important information so please read carefully. By booking and paying the non-refundable deposit or payment you acknowledge you have read, understood and agreed to be legally bound by these conditions.

Included in the price of this Tour: Daily tours as outlined in the itinerary with Italian Tarot guide and/or any local guides, including admission to planned events & places, all breakfasts and all but 4 dinners (unless you decline to join us on a tour which includes dinner before our return), accommodations each night, scheduled transportation (does not include optional activities or independent travel), our personalized private Forum with detailed information on key aspects of Tour, daily itinerary sheet and sweet surprises along the way. (Does not include your transportation to and from the Milan hotel before or after Tour.)

Itineraries are subject to change: Italy is full of surprises and we need to be flexible enough to take advantage of whatever comes along so that we may provide you with the best possible experiences. If an unexpected price increase occurs for an event, please understand this Tour was created with a very tight budget and we cannot cover increased costs for everyone. You have the choice to decline paying the difference and not attending if you so choose and we will set up a time & place to meet you afterwards. It is also possible that a place or event may be closed unexpectedly without warning, beyond our control. We will try to arrange a good alternative but please remember you are on vacation, be flexible. Uncompleted portions of Tour are not cause for refund. If you've traveled anywhere you know there can be delays, bad weather and sudden unavoidable changes beyond control. Please bring a book or deck of cards and sense of humor and of calm.

This tour is non-refundable: Because much of this Tour was arranged at group discount rates, it is necessary to send funds to Italy quite early in order to secure the group's lodgings, events, meal discounts, etc. Therefore this Tour is nonrefundable; both to us and to group members. That is the nature of group discounts when dealing with Italy. We strongly urge you to obtain travel insurance. An outline of possible options is posted on our private Tour Forum.

Declining participation to an event: If you decide not to join a scheduled tour or event please let tour managers Arnell or Michael know ahead of time (preferably a day before) so we do not worry and so as not to disrupt the group planned functions.

You are responsible for your luggage & personal items at all times: Although the tour bus gets locked when we go on an adventure, we are not responsible for lost items left behind. Take all personal belongings with you at the end of each bus day and do not leave trash behind.

You are responsible to cover all extra expenses you incur: Pay any personal hotel bills the night before departure and cover extra items you order on group meals ahead of our paying the bill.

Returned Checks: If a payment check bounces for any reason we must assess a $50 returned item fee per occurrence. The fee(s) will be added to the applicable 2021 tour balance, and be required to be paid in full immediately and/or prior to the tour departure.

Additional Fees: Any fees incurred through bank transfers, PayPal and/or other types of payments must be covered immediately by you as well.

Travel Insurance: We encourage tour members to purchase travel insurance to cover possible costs (airline tickets, loss of luggage, trip delay, medical evacuation, etc.) Please note that travel insurance companies often require insurance to be purchased within a certain time period.

Tour forms, & obligations: 2021 tour members are required to sign & return all forms (Release & Waiver Agreement, Tarot Museum Membership, Emergency Information Form and a Tour Conditions Agreement) along with a non-refundable deposit. Any pre-existing physical or emotional disability that may require attention or treatment must be reported well in advance of the onset of any tour. Omitting important information could result in expulsion from a tour at your expense. Please understand that to keep costs down and because it may be unobtainable in any event, we have no protection coverage. Tour members assume the risks inherent in international travel.

Participation: Although we want everyone to have a great time, it can happen that someone participating in a tour may behave badly or do things incompatible with the safety, comfort or convenience of others. In such circumstances we as tour organizers & managers have the exclusive right and discretion to expel them from a tour at any time, without claims or complaints against us.

Our tours are physically active: This is an integral, essential part of the experience. At least one month prior to our Tour you may want to incorporate a daily walking program into your schedule to prepare if you are not accustomed to the amount of exercise an art tour entails. Bookings are accepted on the understanding that all those travelling are in good health & physically fit to the minimum demands of the Tour. Comfortable walking shoes are highly recommended. You should be capable of fully participating without assistance in the following levels of activity:
1. Carry or roll your own luggage for up to 15 minutes over uneven pavement from the bus to the hotel and possibly hauling it up flights of stairs to reach your room.
2. Be comfortable on your feet for up to four hours walking and/or standing, both inside museums and outdoors in weather conditions such as sun and rain.

You'll want to pack light: We recommend one airline-carry-on-size bag plus a small day pack or shoulder bag, (but no more than one large suitcase). You will carry your own bags to and from the bus to your room, which may include flights of stairs or walking from the bus parking area to the hotel. Our tour forum includes helpful tips for packing light and creatively. Your combined luggage must fit within the size of one large suitcase; there is neither room for carry-on luggage in the passenger compartment of the bus nor any overhead storage.

Luggage size restrictions: Your total combined luggage should fit within the size of the airline standards one large checked bag; which is not to exceed 62 inches (157 cm) when you total length + width + height, for instance our bag is 30" X 20" X 12" = 62" (77cm X 50cm X 30cm = 157cm).

Cancelation: Within the limits of safety and time, every attempt will be made to adhere to the itineraries described. However we are not liable for any delay in, change to or cancellation of this Tour due to means beyond reasonable control including but not limited to war or threat of war, riot, civil strife, terrorist activity, industrial or nuclear disaster, adverse weather conditions, fire, earthquake and strikes. Furthermore in order to operate the Tour we require a minimum number of 16 full paying travelers. If the minimum number is not met, we reserve the right to cancel the tour; in which case we will refund money paid by you for the Tour.

Complaints: If you have a complaint about the Tour, you must make it known at the earliest opportunity to the tour organizers; Arnell Ando and/or Michael McAteer, who will attempt to resolve the situation if possible.

Publicity: You agree we may use shared tour photos and images of you taken during the Tour or feedback shared without recourse or compensation to you for publicity & promo purpose through whatever medium chosen.

Privacy: In order to be able to supply services to you we will need to collect certain information from you which may be of personal nature. The information may be disclosed to our service providers to enable the services be provided but will not be used by them for any other purposes.
---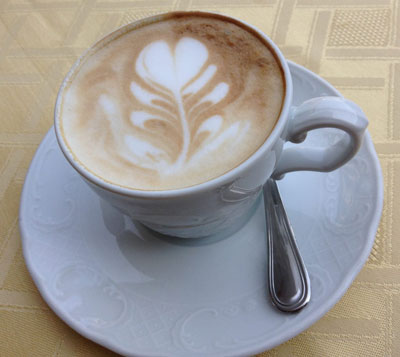 Thanks & looking forward to having a great adventure together in bella Italia!
Arnell Ando
(Tour Manager)
For more information contact: Arnell Ando

Members of this tour please join our Private Forum which provides trip details, photos, maps, menus, lodgings, tips and ways to connect with our merry band of Tarot travelers.