Tarot Art & History Tour of Italy:


Get on our contact list.

Next Tour Planned:
Fall 2019


'Tarot Travel Guide of Italy'
is available as a
Kindle
or
PDF
eBook. Full of fascinating historical details, colorful imagery, maps + live links!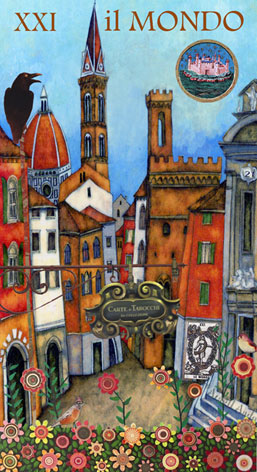 We are excited about this 4th epic adventure with our merry band of Tarot travelers! Our previous tours were special and this one includes those highlights plus 5 new amazing places to explore along with visits with Tarot artists, ancient Tarot Frescoes, antique painted cards, the Tarot Museum & Niki de St Phalle's Tarot Garden plus time spent in Milan, Bologna, Ferrara, Rimini, Siena, Varase, Clusone & Bergamo...

Explore the fascinating history of Tarot's evolution beginning with its deep roots in the Italian Renaissance. Experience first hand this symbolic art form's continuing progression, (often found in the most unlikely places.) Enjoy delectable local cuisines and travel the beautiful countryside in a comfortable chartered bus. Our sacred world of richly emblematic art & symbolic dreamscapes awaits in a colorful kaleidoscope of creative perspectives!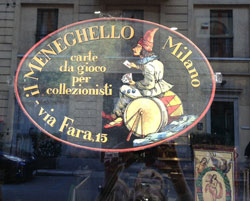 Presented by Tarot artist & author Arnell Ando, (certified tour organizer), with Michael McAteer (logistics manager) and our fascinating resident scholars, Morena Poltronieri & Ernesto Fazioli - creators of the International Tarot Museum who help guide this singular sojourn!
Check out various feedback from previous tours

2015 tour video gives a nice sense of these enchanting tours...

Itinerary for Autumn 2019 Tarot Art & History Tour Includes: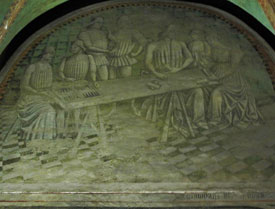 We'll begin our journey in Milan, birthplace of Tarot.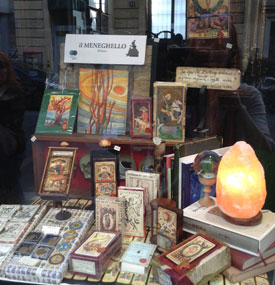 We'll visit the magical Tarot emporium, il Meneghello, with the maestro himself, Osvaldo Menegazzi (known by discerning deck collectors and historians) & Dr. Dorsini, while savoring Menegazzi's mesmerizing assortment of handcrafted Tarot sets, artwork, shadowboxes, and meticulously produced historical decks.

The awe inspiring Renaissance fortress Castello Sforzesco (Visconti - Sforza Castle) will surely impress with its majestic presence. It houses a curious collection of art & artifacts including a special Tarot fresco which evokes a dark tale. And be sure to see beautiful works by Leonardo da Vinci and by Bonifacio Bembo, (creator of the earliest known Tarot deck, the history of which may have begun in this very castle.) Incidentally, new to the 2017 tour, we'll check out a beautifully preserved vineyard residence where da Vinci dwelled, which was a lavish gift from Sforza, Duke of Milan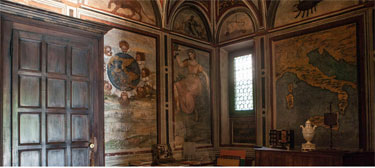 (shown below).

In the tranquil Renaissance town of Ferrara we spend a relaxing time exploring this charming place full of character and intrigue that shares (along with Milan) early connections to Tarot. Highlights include the unique art museum, San Romano, full of symbolic works. Palazzo Schifanoia, a 14th century summer Palace, sharing frescos, known as the Hall of Months, created under the direction of Renaissance painters Francesco del Cossa and Cosmè Tura that depict mythological, astrological scenes with correlations to Tarot.
---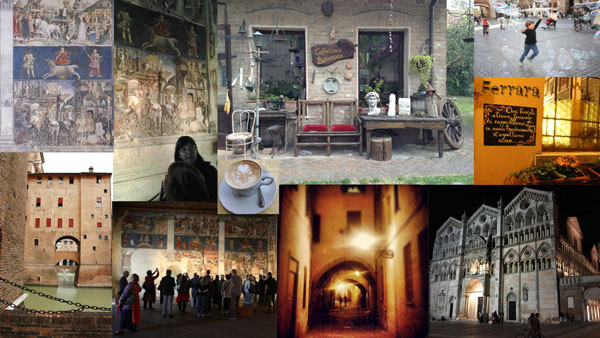 Gentle Beauty of Ferrara with Early Ties to Tarot
---
Bask in the Aura of the Authentic...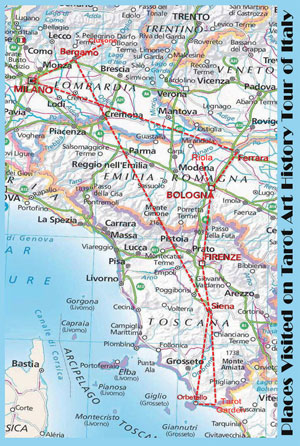 On the way to a scrumptious supper, we'll take a stroll through an old cobblestoned Jewish village with a long, proud history dating back to medieval times, that's bound to inspire with its unique architecture and delicate beauty.

And feel free to explore the moated, medieval castle of Ferrara, which is a museum with interesting artifacts and historical references relating to the royal Este family, who helped popularize & spread the chic of early Tarot and astrology.

We travel to Bologna, a grand old city with rich layers of history, and a thriving contemporary lifestyle.

We'll visit the awe-inspiring Basilica di St. Pedronio which has magnificent art with early ties to Tarot symbolism, (such as XII Hanged Man, XV Devil and XXI World).

We'll discover an ancient Goddess Temple of Isis with deep ties to Jerusalem, hidden within an old church (that has its own secrets to reveal). Not to be missed is a jaunt around the Piazza + new on this tour, we'll venture to Palazzo dell'Archiginnasio and discover its impressive grandeur and long legacy of famous esoteric and philosophical scholars. Bologna offers an elaborate open air bazaar, mere blocks from our comfy hotel, that is sure to tempt with an assortment of unusual treasures, treats & novelties from exotic places.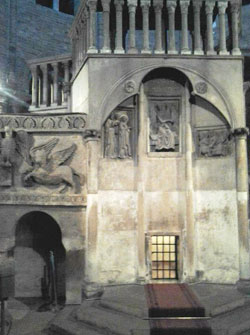 New for this tour, we'll spend time in Rimini, visiting Malatesta Temple, which is full of Neoplatonic symbols and the captivating Chapel of Planets that celebrates Basino da Parma's brilliance; (creator of astrological symbols) making it an unforgettable experience.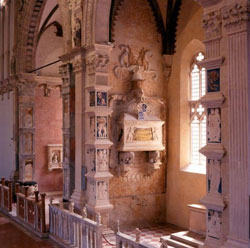 Next we embark on a lovely journey up mountains, past forests, to rejuvenate our spirits in the incredible Tarot Museum of Morena Poltronieri & Ernesto Fazioli, which is found nestled in the small hilltop village of Riola. An impressive array of original Tarot works from around the world, as well as a huge collection of decks from the rare to the unusual and most prized awaits. The 400 year old building, home to Museo dei Tarocchi, was lovingly restored by Morena & Ernesto for their grand opening in 2007. The museum has hidden treasures all over, including tree trunks that open to reveal shelves of curious Tarocchi and tiny doors with lit windows in stone walls showing off precious miniature artworks. They will host a garden party for us, with Tarot artists (collectors & scholars may be familiar with their decks).

New on this tour is a visit to nearby Rocchetta Mattei, an intriguing art museum with unusual architecture sure to dazzle & inspire.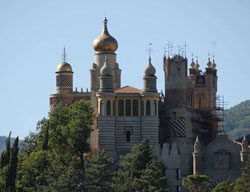 Next we venture to the beautiful Tuscany region, with tidy lines of cypress trees and olive groves (like gazing into an immense painting...)Medieval castles and villages dot the landscape adding to this picturesque scene.

We'll stay for a spell in Siena, which tantalizes the palette and inspires the artist within.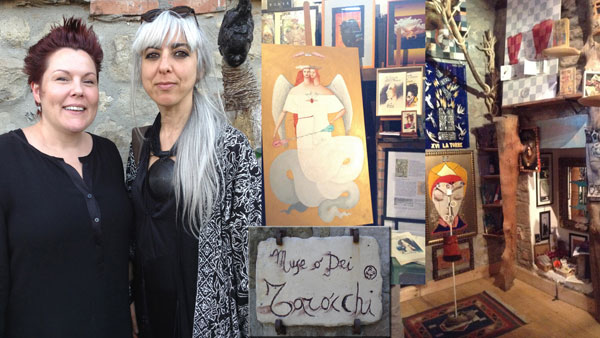 Tarot Museum Garden Party: Jessica w/ Surreal Tarot Artist Octavia Monaco
---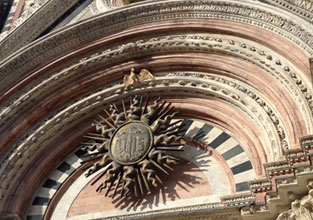 Siena's stunning B&W, marbled Duomo is designed to fill the visitor with overwhelming awe. It shares a fascinating history and you'll surely recognize Tarot related iconography and esoteric symbolism in the breathtaking marble inlays & various artworks. Note mosaics and frescoes with early Pagan imagery also found in ancient Tarot cards. With the rest of the day free to explore, enjoy fabulous museums with some of the greatest masterpieces of all time.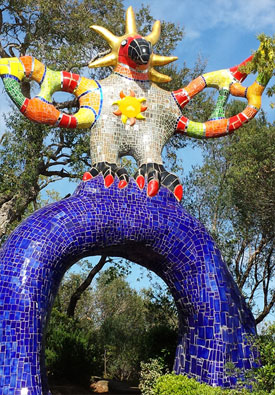 Cobblestone paths spiral out from Piazza del Campo offering delightful eateries and unusual shops to enjoy.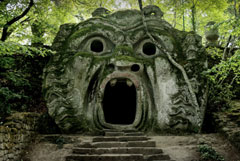 We'll have lunch in a seaside village on our way to Sacro Bosco di Bomarzo; more affectionately known as the Monster Garden, of mythological creatures, strange statues and impossible architecture (i.e. a crazy crooked tower). These enigmatic sculptures appear to represent stages on an alchemical journey.

At the heart of our tour, we make a spiritual pilgrimage to the Tarot Garden of Niki De Saint Phalle. A breathtaking view of colorful sculptures looms large on the horizon as we draw near… In 1998 Niki created this magical place, where the 22 Major Arcana welcome us to explore and play in sight of the Mediterranean sea, surrounded by a rocky landscape, graced with olive trees & oak. Unlike most museums where you are prohibited to touch or take photos, the Tarot garden invites us to interact with her compelling, symbolic sculptures.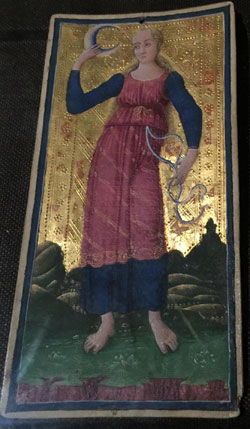 We'll enjoy a blissful stay in the lovely hill-top town of Bergamo and visit Accademia di Carrara, home to 26 of the original, meticulously painted Visconti-Sforza (Pierpont Morgan) Tarot cards (oldest known Tarocchi deck).

Bergamo is split in two; a lovely, ancient Renaissance town and the trendy, fashionable quarter, and we'll have time to explore both dimensions.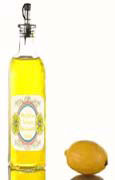 Incidentally, while in Bergamo researching a previous tour with Morena, we were served refreshing Limoncello to ''cleanse the palate.'' We fell under the spell of this lightly fragrant, citrus liqueur, (like drinking liquid sunshine), so Arnell experimented and this is our homemade Limoncello recipe. And yes, we return to that wonderful restaurant with delicious Limoncello on this tour.

Morena arranged a private tour of Bergamo's beautiful Basilica di Santa Maria Maggiore with local author, historian Mauro Zanchi who will reveal areas of the church not seen by visitors. And share richly symbolic, intricate wooden inlays by Lorenzo Lotto and other precious works that make this sacred space unique. The lavish decor, (largely from a Baroque renovation) makes it a feast for the eyes & spirit.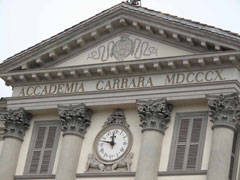 We venture to the picturesque mountaintop village of Clusone and discover, with the local historian,an amazing ancient astrological clock tower from 1583 that still functions, as well as two of the oldest surviving Renaissance frescos with the theme of Triumph of Death by Giacomo Borlone de Buschis,(1485).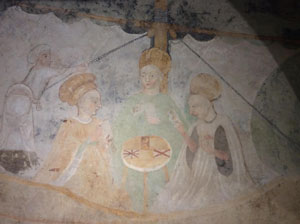 In Varase, we'll visit an important Tarot fresco from the Renaissance era in the Castle of Masnago. The ghostly remains of this charming 15th century work depicting noble ladies playing Tarocchi while drifting in a wee boat, is quite captivating along with other frescos and symbolic art; both contemporary and from Italy's most influential era. Afterwards we'll enjoy a blissful picnic on castle grounds.

Then make our way back to Milan for a final surprise (or two) and a farewell dinner with warm good-byes to dear Osvaldo Menegazzi & friends. The tour will end where it began and having come full circle, we can bask in the collective experience of a lifetime!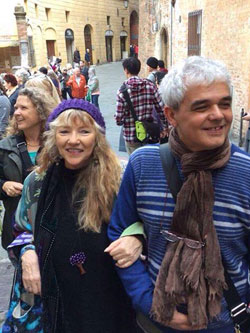 ---


Tarot Tour Includes:
Hotel accommodations, breakfasts, transportation within Italy (on our chartered tour bus), all scheduled events & tour fees, and all but 4 dinners; along with a picnic, a garden party + wonderful surprises, special guests and Tarot luminaries.

---
The 2012 tour 'in a nutshell' in this cool Blog by Kat Tan Conte

And her trailer with glimpses of places shared...like fragments of a dream.

(Below see a few more tarot tour collages.)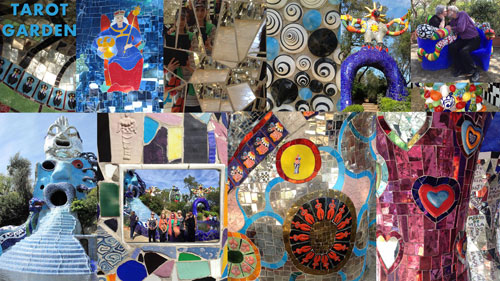 Incredible Tarot Garden of Niki de Saint Phalle

---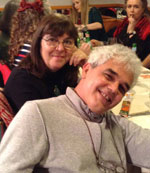 Morena Poltronieri, director of Museo dei Tarocchi is pictured with creative partner Ernesto Fazioli. Their international Tarot Museum houses an impressive Tarot deck & art collection along with a publishing house and bookshop. They are respected scholars of tarot, astrology, ancient esoteric history, architecture, symbolism & lore in both Italy and abroad. Check out this mini site which showcases the Tarot Museum, and offers deck reviews of their various published decks.

Arnell Ando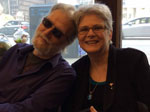 is a certified tour manager and this is the 4th tour she has co-organized with husband Michael McAteer. She's a Jungian-based, Expressive Arts Therapist who has passionately studied Tarot since the 1980's. She has contributed to countless collaborative Tarot projects and created five decks so far including, Transformational Tarot published by U.S. Games, Lucky Pack Tarot and Hero's Journey, which she has hand-crafted since 1994. She also publishes artist's decks such as Dark Goddess Tarot. Arnell has combined studies in spiritual and psychological realms to create her unique interpretation of Tarot. She lives in Chicago with her bestie, Michael (tour's cat wrangler). You can view her art, decks, and a line of custom, miniature occult shops, or read her articles & reviews: www.arnellart.com Michael & Arnell went on the two Tarot history tours with Brian Williams (1999 & 2000) and dedicate these to his brilliant legacy with much love and fond remembrances.
Tarot Art & History Tour of Italy - 2 Week Holiday, Autumn 2019
Details TBA

---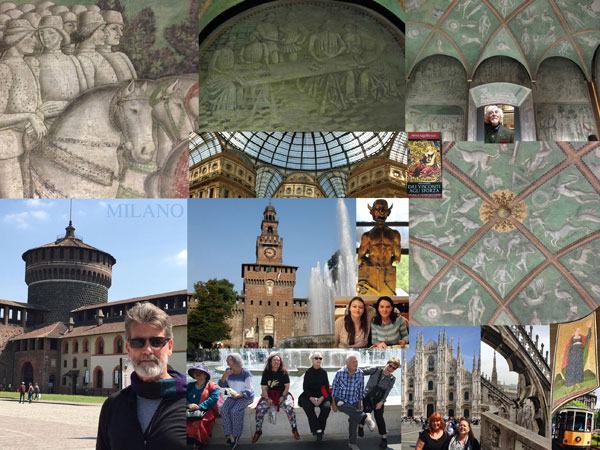 Glimpse of Castello Sforzesco (Visconti/Sforza Castle) Milan & Tarot Fresco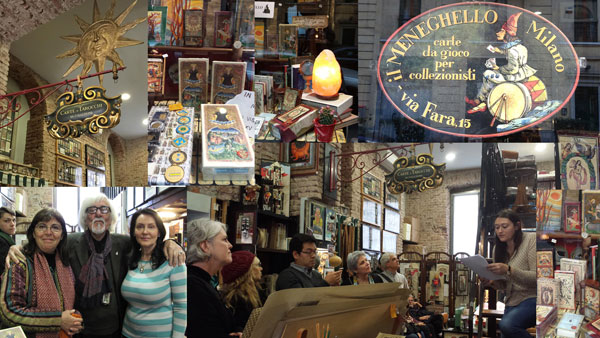 Mesmerizing il Meneghello with Osvaldo Menegazzi, Dr. Dorsini & Friends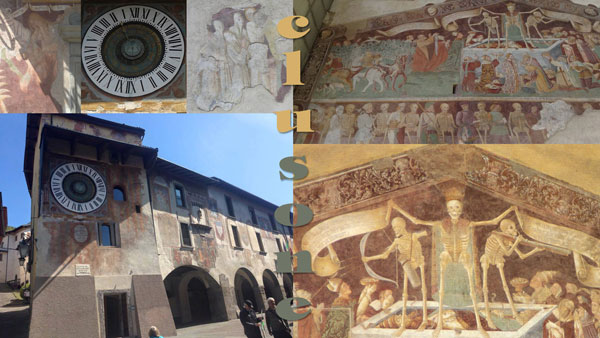 Clusone: Ancient Astronomical Clock Tower & Triumph of Death Fresco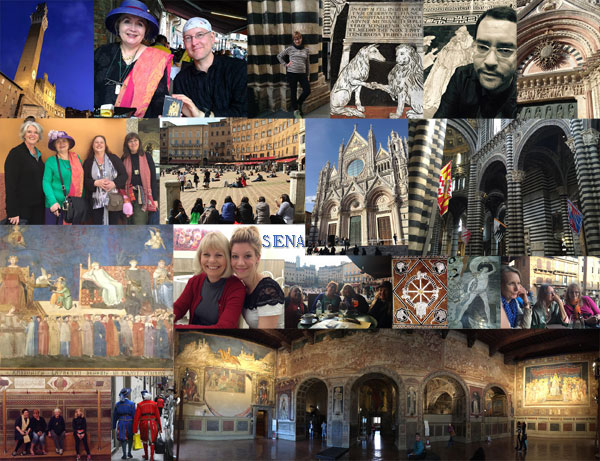 Exploring Duomo di Siena, Piazza del Campo & Museo Civico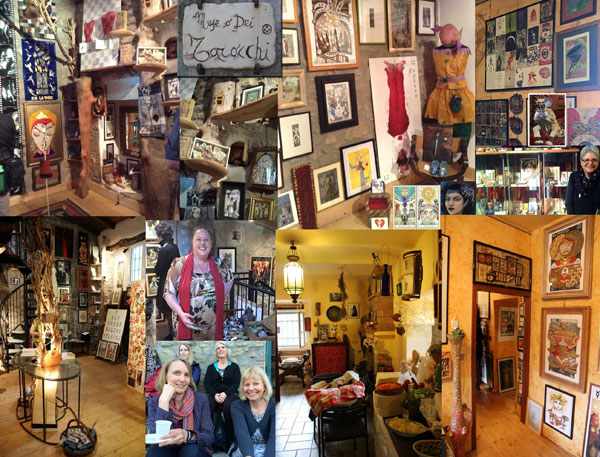 Enchanting International Tarot Museum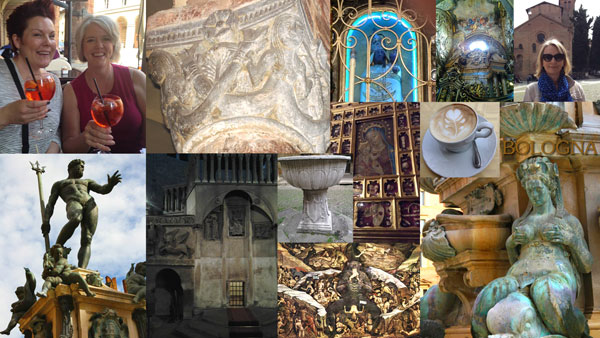 Bologna: St Petronius Basilica, Isis Goddess Temple, King Neptune & friends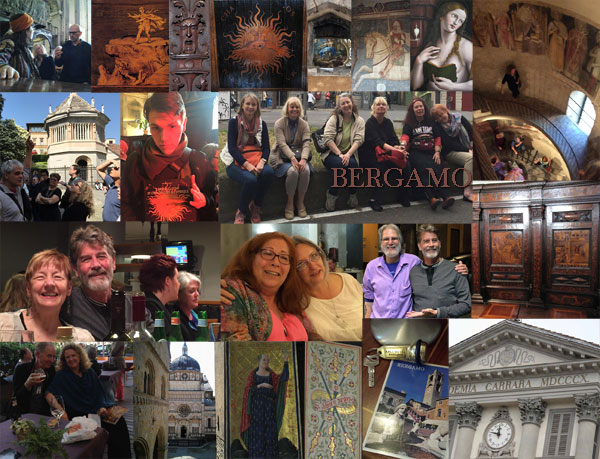 Bergamo: Basilica's Esoteric Work by Lorenzo Lotto & Accademia Carrara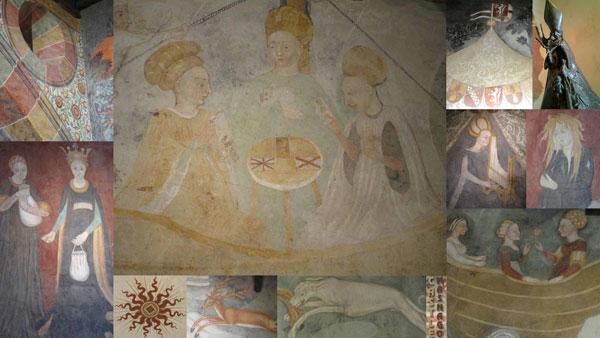 Tarot & Esoteric Frescos of Castello di Masnago in Varase


The 2019 Tour Conditions Agreement (Fine Print)

For more info contact: Arnell Ando

Members join a Private Forum, which provides trip details, photos, maps, menus, lodgings, helpful tour tips + a way to connect with our merry band of tarot travelers.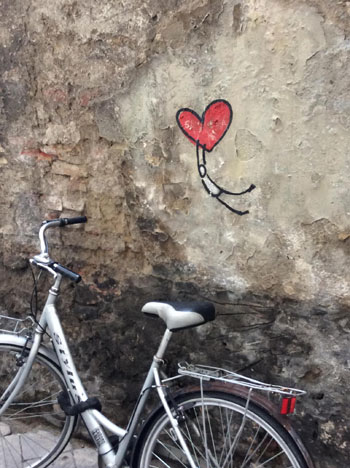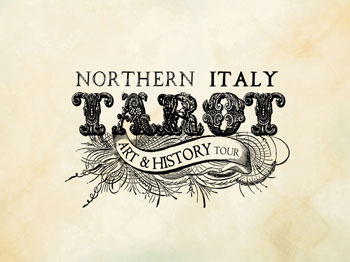 (Arnell's Art Home)