Specs in a Nutshell:
* Theme: Fresh Approach to 'Alice' with Emi's Adventurous Tale & 22 Trumps
* Limited to Only 100 Handcrafted Sets (+ Bonus Gifties)
* Published: 2013
* 22 Major Arcana (+ Signed & Numbered Title Card)
* Cards: Italian Titles
* Justice: Card VIII and Strength is XI
* 80-Page Soft-Cover Book, Large B&W Drawings (English Edit by Arnell Ando)
* Book Size: 8 x 5.75 Inches - 20.3 x 14.6 Cm
* Handcrafted Box by Osvaldo Menegazzi (His Signature Hot Wax Seal)
* Title Card Fastened to Box Cover
* Card Size: 5 x 3.5 Inches - 12.7 cm x 8.89 Cm
* Cardstock: Cream Colored, Slightly Textured Matte
* Card Back: Full Color Image of Emi - Not Reversible (see below)
* Original Price Was: Euro €75. Euro + Italian Postage
* Had Been Available from iL Meneghello and Museo dei Tarocchi
Sorry, Out of Print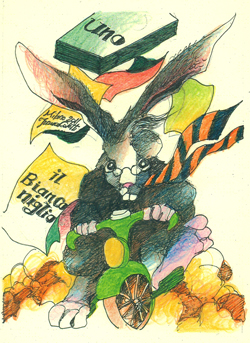 Those who are enchanted with Alice in Wonderland along with the magic of Tarot may feel a special affinity for this delightful offering from the incredible Italian Tarot artists/publishers ~ Osvaldo Menegazzi of il Meneghello and Morena Poltronieri of Museo dei Tarocchi. The creator of this children's tale & Major Arcana set ~ Franco Coletti had various theme decks published in small handcrafted editions, published by Maestro Menegazzi.

The Emi in Wonderland soft-cover book has large B&W illustrations and was printed quite nicely by the fab folks at Museo dei Tarocchi; while Osvaldo produced the limited edition deck on crème colored and slightly textured matte cardstock and also the handcrafted box. This collaboration offers a lovely collector's edition for that precious child or the one who lives within.

To add a bit of background to the scene, for those unfamiliar with Franco Coletti's contributions, write-ups of most of his decks, along with card images can be found on the il Meneghello site:
Un Grande Amore
Divina Commedia's Tarots
Les Tarot Noirs
I Tarocchi dell'amore Sacro e profano
i nuovi Tarocchi dell'amor Sacro e Profano
I Tarocchi dell'amore Sacro e profano III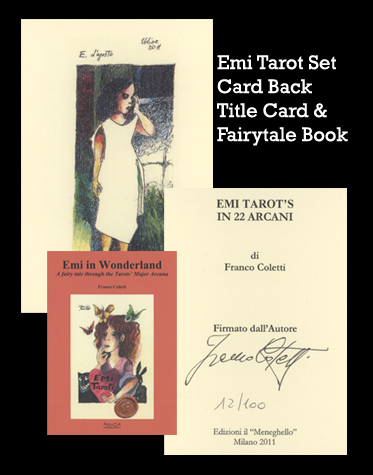 However, for this particular endeavor of the Emi boxed set, Franco Coletti shares his affection for the classic story of Alice with the precious little Emi in his life (who is most special to his most special…) and makes the six year old the center of an adventurous tale. An 'Alice' for the new millennium one might say, which captures the whimsical often dreamlike qualities of the original story while taking us in new directions.

You may recognize many of the familiar characters that made their appearance in Alice's tales; the White Rabbit, the Queen of Hearts, the Mad Hatter, and the Cheshire Cat, to name a few. But this time they are interacting with a precocious Italian girl who has fallen down a different rabbit hole entirely and so there are many new twists and turns to be discovered. You may even find it offers fresh insights about the original story as well as on growing up while retaining one's wits .

The inspiration for this tale of Emi stays true to the original aim of Alice in Wonderland and it is a story of playfully accessible guidelines for getting through the often confusing world that a kid must somehow make sense of while remaining curious and discerning about the myriad of characters and situations which fill one's life and imagination. To share a bit of the writing style, here is the 18th Chapter in the book entitled: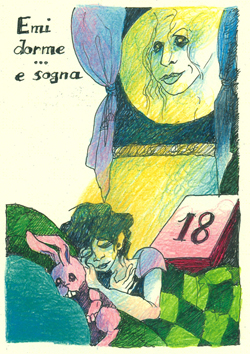 Emi is Sleeping and Dreaming
...Where, as the Duchess had announced, she saw Emi sleeping in her tiny bed. Her brown hair projecting a brown halo on the apple green pillow, and a pink stuffed bunny was sleeping by her side, too.
From the open window, (since there it was summer even in winter and it was never TOO cold), a silvery light entered the room and kissed Emi's forehead sweetly, while the bluish curtains were looking like vertical waves.
It was the moon, full and enormous, grazing the roofs outside, because down there, the moon was twenty times as big as on the other side of the red door (that, you'll remember, was the place where Emi began this strange journey). Right in the very middle of the shining moon, you could see a woman's face smiling at Emi with all the love of the world while watching over her sleep. It was a very beautiful face, to which the Queen's face bestowed a similar splendor.

Watching herself sleeping, Emi exclaimed happily: -' That's my Mum there on the moon!'...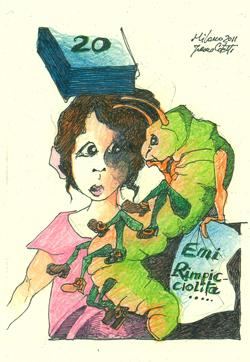 And while we're at it a bit of the 20th Chapter called:
Emi Grows Very Small
...Emi found herself in front of a small wall of disorganized stones, on which a big caterpillar was sitting, while very busy strapping on his boots. When he saw Emi, he sighed loudly and said in a mournful voice, (like that of Emi's friend when she's bored):
-'Ugh, what a bore! What a bore!'-
-'What's wrong with you?'- Emi asked straightaway, being caring (and curious).
-'If you had to strap on a hundred boots, you wouldn't ask this question.'-

Emi noticed that the caterpillar was big, really very very big, because it was almost her size. This surprised her more than the hundred boots.

-'You're really big.'- she observed.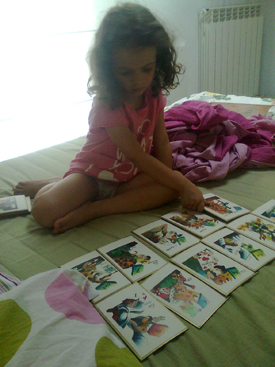 -'Ugh, I am NOT big: YOU are small'- the tiny animal sighed again, wishing that it was not really a tiny animal, but was as big as a medium size dog or even bigger.
Emi, more and more surprised, looked around and only then noticed that a red ant on a yellow leaf, was passing by, and even the ant and the leaf were ENORMOUS. So she thought that it might be true that she had shrunk.
-'But how was it possible?'- she asked, more and more astonished.
-'HERE everything is possible'- sighed the Caterpillar, who looked as if he was unable to speak without sighing,- 'but everything also has it's reasons.'-
-'And why am I supposed to be shrunken?'- (Emi accepted things better if she could understand the reasons why).
-'To show you how a leaf can look like lace and a dewdrop like a gem. When one is too big, she can't always see such small things, but it's often a pity, because the world is also made of (most parts of it) small things.'-
-'Oh, I understand,'- replied Emi, even if she had only understood part of the speech- 'but I mustn't stay like this forever, must I?'-...

And finally let's round this out with a bit from the World card chapter 21 entitled:
Giant Emi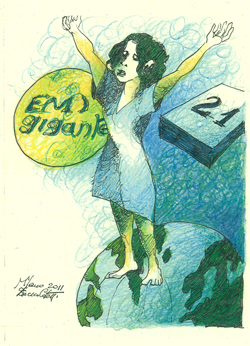 ...Where Emi discovered she had become enormous, and gigantic, indeed.
The little bare feet were leaning on a ball which was suspended in the void. It had beautiful shades of green and blue, and it took Emi a while to understand that it was the Earth, and she could embrace all the stars, solar systems and galaxies, only by opening her arms.
-'Help!' -she happened to shout, because the Universe is a bit too large for a child alone, even if she has become a giant. She felt dizzy.
-'Chill out, Emi'- a sweet voice told her soothingly. She recognized it (it was the Queen's voice and also sounded like Mum's).
-'Where are you? I can't see!'-
-'I'm always here on the moon'- the voice calmed her down- 'even if you can't see me, I can see you.'-
-'But why have I become this big now?'-
-'To let you to play with stars. Once there was a German man who used to say that one becomes really complete when one gets to feel so much a child as to be able to play with the stars and the world. So I wanted you to experience this.'-
-'Stars burn a little when I stroke them, but the world is soft under my feet and it gives me a wonderful feeling. Just like when I walk on a lawn among flowers....But this is a NEVERENDING lawn.'-
-'Good, Emi: now, if you want, you can go back to being like you used to be. Well, almost like you used to be, to say it truthfully.'-...

A charming and curious little Emi finds herself in a wonderland of adventures and her story pairs perfectly with the gorgeous set of Tarot Trumps in a nicely crafted box. All together a beautiful and unique offering and treasure for collectors and Alice in Wonderland fans of all ages.
EMI in Wonderland -
A Fairytale Through the Tarots' Major Arcana
Created by Franco Coletti
Produced & Published in Collaboration with:
il Meneghello & Museo dei Tarocchi
Shown in First Row: III - Empress, VI - Tea Party and XI - Strength Cards


Below: XV - Devil, and XVI Tower Cards & Book Cover