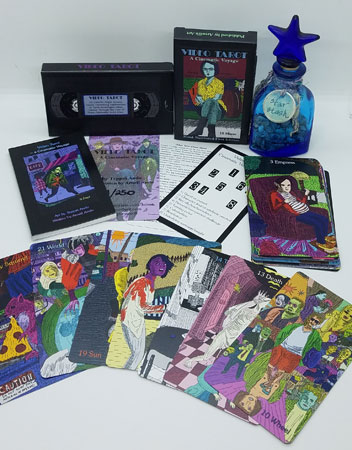 Print Houses Specializing in Tarot, Oracle, Lenormand and Playing Card Decks:

SHUFFLED INK is a green energy company in Florida I've worked with 10 times since 2013. I am happy with how professional everything comes out and my esteem has only increased with each project. They are a reliable, quality printer of decks, booklets & boxes that I recommend. They offer card samples and reasonable quotes, as well as free assistance from the graphics dept (who can create templates for formatting your cards, booklet pages & box; all while working with your favorite art program, like Photoshop). When you are ready, upload completed CMYK 'Bleed' version files to a secure site (like Dropbox. ) They then send online Proofs for you to inspect. SHUFFLED INK can also mail hard copy proofs (uncut, flat, paper prints) upon request, which may be a good idea if you require precise colors, but may be an additional fee and add time to the estimated shipment date + any physical changes at this point may cost extra since this stage is post production. They can also mail an actual sample set, (post production) before shipping the entire inventory, which you can inspect before the rest are sent.

With SHUFFLED INK you can conceivably get a full color, 80-card deck set made on sturdy cardstock with rounded corners; correlated in the card order you prefer, cello-wrapped; including a full color booklet (lwb), in either a custom tuck box or (sturdier) 2-piece box for around (USD) $9000. for 1000 sets (not including shipping, which depends on your locale & specifics.) As a general guide, shipping costs to me have been approximately $1. per deck on 1000 decks, if going to only one address (prices may have increased since Covid). Your project could cost less if you chose thinner cardstock (such as 300 GSM - standard playing card stock) or didn't need a lwb or box (flip-top is less expensive than 2-piece box). This is just a round figure to give a general idea (and by the way, that's nearly half what I paid when I self-published my Transformational Tarot deck & book in 1995). They offer booklets from 16 ~ 100+ pages. Or a more stylish, soft-cover booklet (instead of paper covers) for a little extra, which is a much nicer presentation for a few pennies more per book. Though imo, too many pages can be a burden on the delicate binding of soft cover booklets.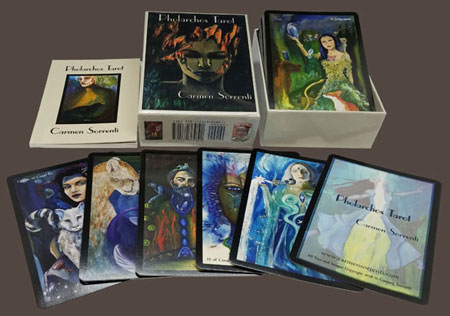 I prefer this option and the 2-piece box. They are helpful and flexible if you are patient and follow up. They estimate print to shipment time: 6-8 weeks from when they receive your Final Proof approval, but I would generously pad that estimate, if you have a strict deadline. Especially during holiday season or if you slow the process with changes or by requesting hard copy Proofs. They take the time to do a thorough, expert job.

In 2020 I printed two fabulous limited edition (250) deck sets with SHUFFLED INK. One I collaborated on with my artist son Teppei Ando: Video Tarot (image shown). Small runs (of 500 or less decks) in standard sizes need not be imported! Tarot cards: 2.75 x 4.75 inch ('Bleed' size: 3.127 x 5.127") or 3.5 x 5 (Bleed: 3.875 x 5.375) can take advantage of SHUFFLED INK's in-house printing service, (in Florida) thereby avoiding the longer wait and shipping/customs tax from overseas. For reference, it cost around $2500 to have them print 250 decks of 24 cards, with a flip-top box and 45 page, full color, soft-cover booklet. The 2-piece box was not an option for such a small order but you can choose a thicker flip-top cardstock (Eco Kraft). This is a nice option, especially for standard sized Lenormand, Oracle or Major Arcana decks.

Italian artist Carmen Sorrenti and I published her dreamy Pholarchos Tarot set here in 2018 (see image). Ellen Lorenzi-Prince & I produced her potent decks: Dark Goddess, Tarot of the Crone, Minoan Tarot, Greek Goddess Tarot, and the She Who Watches Oracle all with Shuffled Ink as well. Great company.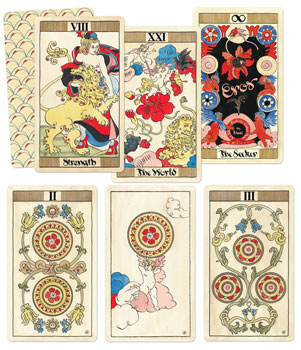 Expert Playing Card Company
Excited to share this NYC printer especially suited for deck creators with a background in graphic arts, & strong skills in Adobe Illustrator. This is the method Expert Printers prefers, to create crisp, clean lines and precisely textured, colored imagery with their requested minimum of 1200 dpi (Vector based) art. I came upon them via a deck design team that did a presentation for the Tarot Group Second Sunday in IL. The impressive Uusi design team discussed experiences making several playing card decks, (all funded successfully with Kickstarter using a different printer discussed below). When they ventured into Tarot deck designing however, they went with Expert Playing Card, whom they recommended highly for their great attention to detail and quality, professional craftsmanship. Uusi's first deck with them was Brut Tarot. Then their 'Pagan Otherworlds' came out in 2016, with it's alluring luxurious, heavy stock tuck box and gold foil embossing. And sweet, sensual 'Eros: The Garden of Love' in 2017 as well as several fabulous, sought after decks since.

EPCC® has cool design options for tuck boxes such as embossing & foil highlights, etc. (examples shown on their site). Although they are more inclined to work with professional publishers and graphic artists that are well versed in Illustrator, while corresponding briefly with Bill Kalush, I learned they would also be open to working with Photoshop clients. They are mainly a custom playing card & tuck box printer who have collected and studied antique playing cards and learned all about card production and design innovation throughout their evolution. Their primary goal, according to the site, is to create and produce the world's finest performing playing cards. They had not, dealt with including a booklet in a Tarot deck set but were open to the challenge. They tend to use playing card stock (300 gsm) but "have lots of different materials for tuck boxes and heavier stock for the cards if needed." Brut Tarot has a linen finish + 300 gsm card stock but since the deck is rather small (4.30 inches L by 2.30 W or 10.9 by 5.8 cm.), and of good quality stock, it doesn't feel flimsy and the cards fit nicely in the hand, and shuffle smoothly. Another thing many would appreciate about them, aside from being a N.Y. company, is that all orders help a U.S. charity, since they are owned by 'Conjuring Arts Research Center'. They are, 'competitive with other deck printers' but don't give quotes until they know project specifics. If given the opportunity to work with EPCC® on a future project, I look forward to sharing the experience here with more details.

*Note* On EPCC® site: 'We also work very closely with Lawrence Sullivan and his Legends Playing Card Company of Hong Kong. Lawrence has been instrumental in finding various resources and factories for cards and accessories and working with him is a great pleasure.'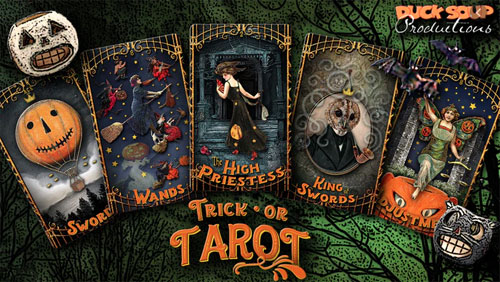 Doug Thornsjo went with 'WJPC' Shenzhen Wangjing Printing Co. for his spooky cool Trick or Tarot deck which came out so charmingly. Cardstock was a bit thin for my personal preference, but otherwise is good quality and has a nice finish. Looking at their site, they have fun options like gold edges (not sure if that's traditional gold foil technique) and decorative metal tins for smaller decks such as Gypsy/Lenormand. And they are versed in game products too, for those with unusual card shapes and gaming requirements. They are a China-based manufacturer specializing solely in card printing, and their Tarot custom printing is now their largest business. They also print several decks each year for Print Ninja (China-based deck manufacturer mentioned below).

Carta Mundi has a branch in Texas and have been in the card printing business for eons. Years back the host of a collaborative deck I worked on, Artist Inner Vision had decks printed here and they did an excellent job. Their minimum deck order (at that time), was 2500 decks. It appears they now offer more options including smaller print runs. Not sure if their graphics dept. is free though, (didn't used to be). I sense they tend to prefer working with professional publishers and graphic artists but perhaps good deals can be negotiated for large orders. On the plus side, they use eco-friendly products: green, recycled or biodegradable paper, packaging & foil; vegetal inks and water-based varnish.

Palaimon Cards: in Toronto Canada prints on site. Perhaps they deal more with smaller 100, 300, and 500 deck orders. Possibly they offer artsy cardstocks & boutique style options.... I don't know because after filling out their online form and sending e-mail confirmations, I never received samples promised or got any follow-up. They did however send a basic quote (in card dimensions requested). Their prices were higher; but again, there may be practical reasons.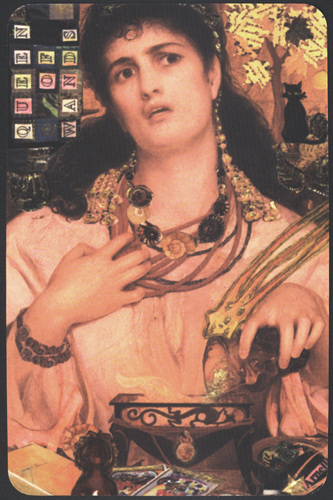 WinGo Games Printers: is recommended for challenging projects including Round Shaped Decks by Australian Teacher Annie O'Brien, of E-motion cards After initial language hiccups (due to her unique specifics) they producd her round deck, booklet and boxed set beautifully. Some of you may be aware it is especially challenging to have a round deck made but this company was up to the task.

Print Ninja is able to manufacture board games if that's your interest. Print Ninja has an office both in China and the U.S. (Midwest) and offers competitive prices including decks, books & boxes to your specifics. I requested a sample box of cards (some embossed or with foil accents and various cardstocks) and boxes. The $25 investment would have been subtracted from my print job had I gone with them. Helpful having a branch here (in the States) for clear communication and quicker turnaround.

And someone in Europe recently mentioned she is working with Italian publisher of custom cards and games: Ludo Cards. I hope to get more details from her but so far she is happy with them.

Getting Your Cards Ready for Print:

You may be requested to fill out an online form stating your specs for the project such as; the number of decks and cards per deck (i.e. 80 cards including title & signature cards), the card size and any cardstock preferences (finish: satin or linen & thickness such as: 300, 320. 330 or 350 gsm), and if you want common borders, or a background or color to bleed to the edges, rounded corners (pretty standard these days), correlated (in a certain card order) and cello-wrapped, and any booklets and boxes. You can ask for a price breakdown on different quantities and see what custom options are available and best suit your pocketbook.

If using a digital art program like Photoshop, save cards in layer files (i.e. image, background/border layer, and text & title layers) and in the recommended file format (i.e. CMYK, 'Tif' or 'Psd' for most professional printers). Keep in mind CMYK colors look different from RGB when printed; blue/green and red/orange hues most noticeably. The printer will crop cards, so send artwork files in their 'bleed size'. Typically the 'bleed' area (outside of the card's 'cut' size) needs to be a total of 0.125" (so: 0.0625" on left, 0.0625" on right, 0.0625" above & 0.0625 inches below) but check with your printer specifics and request a template if needed. It is not recommended to have anything important (such as a signature or keywords) too close to the 'cut' borders (which could be cropped off).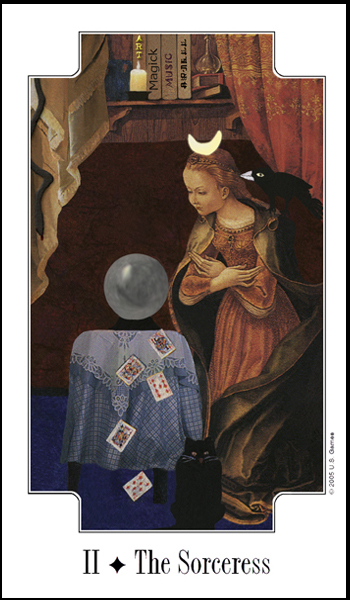 Begin with a high enough resolution (at least 300 dpi for full size or larger imagery). If you are an artist creating the images presently, you might consider making them twice as big as your desired deck size (with room for card titles). That way, when shrinking images to 300 dpi cards size, they will have a higher resolution quality. On the other hand, some deck designers (like playing card artists) Peter Dunham & Linnea Gits of UUSI don't recommend making artwork too large because of a tendency to get too detailed, (with a large 'canvas') and then not having enough 'negative space' or the image looking overly crowded or busy when shrunk down to actual card size (small details lost in the mix).

If your deck is standard size you can ask printers if they have a template to work from, with outline crop marks. Some of my deck projects were not standard size, so the printer gave card measurements for me to create a precise sized template in Photoshop. In 2017 & 2018 SHUFFLEDINK also gave us layered box templates created for the exact size of each project, which made it much easier! Once the card template is made, it is methodical work, transferring each card image (previously cropped & saved in correct card size) into the template (as it's own layer above the template layer) and also pasting in card titles (another layer), and saving each card as an un-flat CMYK Tif File (in computer folder to send printers). If for example, your deck has 80 cards, it is best to save all card files with a 2 digit preface in the order you want them printed/correlated. (Please keep in mind computers count in sequence so all file names will need a 2 digit preface to insure they arrive packaged in order). For example this is how I name these files: 000_title-card.tif, 00_fool.tif, 01_magician.tif, 02_hp.tif, - and on up to the 09_hermit.tif card file. Then when I reach the double digit of the 10 -Wheel of Fortune file, I remove the first zero of the file name and call it: 10_wheel.tif, and next 11_strength.tif and so on; so that all cards show up in the correct order in file folders and will be printed and displayed in that exact order. When completed, the entire folder of card images can be sent as a Zip File to the printer's secure site or a site such as Dropbox.

Several self published artists have created amazing decks in recent years, (too numerous to mention) while others have gone on to become published mainstream. Links to a few favorite indie artists are listed on my site's link page (tho sadly I don't update as much as I'd like.)

By the way, if you are an artist needing help with production and getting your deck self-published, feel free to contact me ( Arnell Ando ) and for a reasonable fee, I can take care of all or specific aspects of the process for you or with you. If interested please share specific details about the project.

Quick, Short Run, 'On Demand' Style Decks:
This alternative to the above professional deck printers may make sense when you want just a few copies printed (for family, friends, a Tarot group or special limited edition or to mark an occasion, etc.) You can make a handful or a hundred and be done with it in less time, with little hassle or simply order and sell as needed. The quality is not as good as a professional deck printer, but if you are not so particular and mainly want the artwork on cards to share or sell easily, then this may be a better option. And their quality has improved somewhat over time. It is over double the cost per deck to produce but also much less investment (less profit, if you plan to sell them; unless you charge more per deck). No need to send un-flat files or mess with such techy details. They don't tend to offer great custom boxes or booklets, so most likely you will need to combine print jobs if that is important. Or get creative, such as using cute deck bags and making an eBook instead of hard copy, etc.

2020 Update on Gamecrafter: in late 2019 they upgraded overall cardstock quality and now offer more options for thickness, durability and 'finish'. Currently they are deemed to have the best cardstock options for OnDemand decks.
I made a small batch of a Major Arcana deck I was working on with my son (standard size: 2.75 x 4.75 inches), by downloading their online template and viewing the short tutorials. Prepping for their online auto-production setup was easy enough. Decks were shipped within estimated timeline (around 6 weeks). Overall image and card quality was better than expected for an OnDemand deck but... the imagery on my cards was noticeably darker and cardstock not as sturdy or nice a finish as the print job of this same deck in 2020 with Shuffled Ink. I wasn't impressed with box or booklet choices but was happy to have a small batch for personal use while I wrote the corresponding book and planned for a bigger printing with SHUFFLED INK.

Printer Studio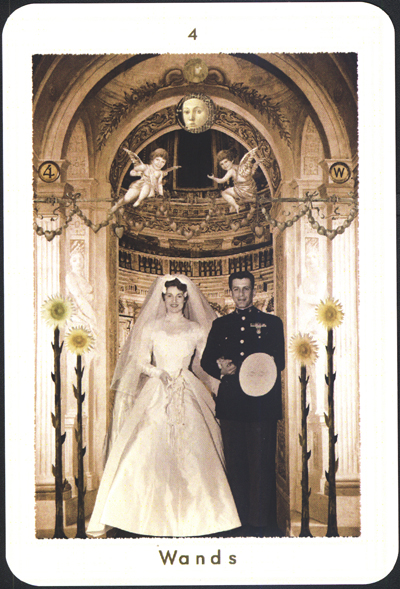 offers smaller card sizes with playing card symbols already printed on them, but last I checked, is limited to only a standard 2.75 x 4.75 inch blank deck template/Tarot card size. This is a thinner quality cardstock (300 gsm for a silk finish or 320 gsm for a slightly thicker, more costly, textured 'linen' finish.) Just don't expect your cards to receive personal adjustments or attention to details (art or text) on the printer's end.

Here is a bit of math for a general idea of costs with Printer Studio (from 2013, so adjust this upwards): $15. each for 1 - 15 decks (thinner 300 gsm cardstock), or $17. for each Tarot deck (for slightly thicker, bumpy textured 'linen' finish). The card price goes down if more are printed at once. For an 80 card deck in the thinner 300 gsm cardstock; they charge around $12.00 per deck for 151 - 299 copies. The price goes down again at 300 decks and once more for 500 decks: $11.03 each for 500 decks = $5515. plus shipping. Books & boxes (if needed) would be a separate, costly print project but options may be available at your local professional print shop (and while there, you might ask them for a quote too).

My creative friend Michele Jackson has made several cool decks and done workshops on deck, making while experimenting with various On Demand printers, recommended Printer Studio for overall quality, compared to other On Demand sites such as Superior Pod.

Make Playing Cards.com has gotten decent feedback from a few online Tarot creators as well...

Saskia Jensen self-published a small (50 deck) order with Dutch printer - Groels Drukkerij with good results. Thick, glossy cardstock & bright colors. She shares:
They don't have a minimum. They do regular style print jobs or On-Demand projects (cheaper the more you order) with digital printing (you need to request an estimate and proof copy). Prices are reasonable and quality for the 'On Demand' was better than most. Thick cardstock was an available option. For 50 full size, 80 card decks with a shinny lamination and rounded corners the cost was around U.S. $19. each plus shipping (no box or lwb). This might be a good option for folks in Europe especially.

Here are some useful notes from Michele Jackson regarding OnDemand Decks:
This is the simplest method, but it requires a bit of planning. Companies that print cards On Demand usually have a template available to help get your cards the right size for printing. If you think you will be going this route download the template before you start your deck. The safe area is the area you should work within for anything you want to appear in your card. There is usually an area around that called the bleed area. Your image should extend into this area, but bear in mind that it may get cut off. If you don't extend imagery into this area you may have white showing, which is fine if you want a white border, but not so good for cards that you want to fill the entire space of. Each of the companies I tried, used a different sized card so it helps to know the company you want to use upfront as it is difficult to resize your art in odd increments once it is complete. You can work in multiples of the desired size – for example if the finished card will be 2.5 X 3.5 inches, you can make your art in 5X7 size and reduce it easily. However, items (in your art) that are easy to identify at 5X7 may be difficult to identify at 2.5X3.5 so keep this in mind. It is best to work in the size the POD company uses.

Tarot Book (Beyond the LWB)
For e-books or hard & soft cover books, the print options are more reasonable these days too (volume bringing price down). There are many choices tho Donna Huntriss of As the Crow Flies & Druid Oracle decks, works with both Lulu.com and www.blurb.com and recommends both.

Espresso Book Machine® (On-Demand publisher): this U.S. based company has branches all over the world. If you send your book as a Pdf to make hard copies, they offer 25% of profits off sales and take care of the rest (processing orders, etc.) I collaborated on a 230-pg. book, published by friends in Italy that use this service. While the cover is color, the pages could only be in B&W and the stock is a bit flimsy. The cover for that matter, seems a bit thin but had a nice soft sheen.

My method for hand-making decks:
(1st Style: old school, a worthwhile but time consuming method)
For my original deck Hero's Journey which I began handcrafting in 1994, I color copy (5 Tarot cards per 8 1/2 by 11 sheet), cut and glue individual backs on each front image (with Avery brand glue stick), trim, laminate (thin, 3 mil. lamination), and then trim once more. It's a good idea to put something heavy on the stack of cards between the process of gluing & laminating; if they begin to curl, they may get air pockets or wrinkles. It's worth investing in a decent paper cutter too. The cutting process is tedious: 80 cards x 4 times (fronts, then backs, and when glued together trimmed again and lastly when laminated).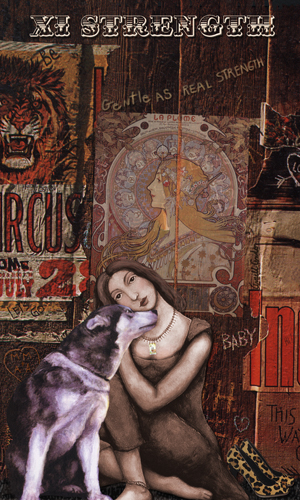 A less laborious, efficient option for my next deck:
I printed Lucky Tarot with an Epson Stylus Photo Printer with great results. With Lucky Pack Tarot, (created in 2006), I printed in high resolution (300 dpi), both fronts & backs onto sheets of Epson double-sided matte, 47 lb. (card stock) paper. Then hand cut, laminated, and trimmed a final time. A simpler process (than Hero's Journey) and the imagery looks sharp and vivid (much better than copy shop quality). I include a lwb printed on 'parchment' paper with a matching Tarot stamp set. While I recommend this method & Epson papers + Epson Stylus Photo Printer line, keeping all those printer inks in stock is pricey!

Simpler methods: You can just glue the card fronts (while still in sheet form, with glue stick) onto colored, handmade or designer paper backs; which may be cheaper and much easier during the cut & paste phase of the process (many deck creators go this route). Nowadays good quality home printers may make nicer copies than local printers /copy shops but printing sucks up a lot of ink when done on expensive papers with 'photo quality' settings. Best to experiment and adjust to your needs.

You can buy a laminator and boxed lamination sheets online at a company like USI. If you have a business resale license they sell products at discount. And they have options for lamination products and types of machines. For example, USI sells lamination sheets in either 5 mil thickness (used for Lucky Pack Tarot and my personal preference for Major Arcana decks - nice and sturdy) or 3 mil. (used for Hero's Journey and most folks prefer this, since it makes a full deck easier to shuffle; not as thick & bulky and it's also more cost effective). Back in 2013, 5 mil 'Opti Clear lamination pouches' (item number 0182) cost around $25.00 and came 70 sheets to a box (11 1/2" letter size). Depending on the size of the cards, 4 to 6 cards would fit on one lamination sheet. The 3 Mil 'Opti Clear lamination pouches' (item number 0179) cost around $20.00 and came 100 sheets to a box (11 1/2" letter size) so you got quite a bit more for your money (prices have most likely increased.)

Another Option: Un-laminated Deck:
Here is an easy method for sturdy, un-laminated cards that I've also done by printing the deck on a nice quality, cardstock such as Epson Premium Presentation Matte Paper (44 lb. 9 mil sheets). Or you may be able to copy cards on laser (color copy) paper or onto thicker cardstock at a local print shop. Craft stores like Michael's and specialty, handmade, imported paper shops like Paper Source have a variety of decorative art paper or colored card stock for the backside of your cards (different thickness - depending on preference). You can spray (uncut) sheet of Tarot cards with an adhesive like 'Krylon Spray Adhesive' and press the sheet firmly on to your chosen backside card stock. This spray adhesive gives a few moments to adjust before setting cards permanently. Give it time to dry, and then cut the cards out with sharp scissors or a paper cutter. *Note: if you choose a decorative backside cardstock which has a pattern that is not reversible, then have the Tarot card (fronts) all line up in the same direction during the gluing process (so back design direction matches). Best to spray outdoors and cover your work area with discarded newspaper, being careful of floating debris.

In the Essay section of my site I have more on Tarot card making and creative, inspirational projects along with guest artists who have shared their own techniques of making decks such as: Jean Hutter who shares a quick & easy method of producing decks. And Michelle Cohen has a unique way of deck making which has a slick tactile presentation (thick cardstock, with a glossy, slippery feel.)

Self Promotion:
I'm a hermit by nature and lousy at self-promotion so my website does some of the work along word of mouth and outlets like Facebook or Instagram. I've yet to deal with other media platforms though I know I should. Also doing pro bono work for other Tarotists and collaborations with other artists is a beautiful experience and offers networking opportunities along with a good way to stay in touch with the tarot tribe. That and sending promotional copies to respected and reliable deck reviewers and joining and contributing to online groups doing collaborative decks, or attending Tarot conventions, local Tarot meet-up groups and writing articles for esoteric magazines, blogs & zines in exchange for free publicity. Some Tarot gigs will trade you a vending table if you agree to do an interesting presentation in exchange and many magazines that have an interest in Tarot will give you space to promote your deck & site in exchange for an article they agree to publish (ad space tends to inexpensive as well). Llewellyn for instance, used to publish a wonderful Almanac, 'Tarot Reader' and a Tarot calendar which had many creative contributions from various artist decks along with a full listing of all the contributors (their decks and contact info).

Etsy.com (and others that have since cropped up) have reasonable fees, and let you create a personal 'shop'; to sell your handcrafted decks.
Or get support from friends on media platforms (there are often deck creator pages such as on Facebook, to share your creative progress) and Tarot chat sites and forums can be fun fun and helpful. Share ideas and ask details from other published/self-published Tarot artists, and introduce your deck to Tarot collectors, etc.

I also make art postcards & magnets of favorite cards from decks I'm promoting and include them when selling other decks and have them on hand at Tarot gigs. Another subtle way to get the word out. Vistaprint has great promo material options and often has good sales.

Deck Reviewers: Staff at The Cartomancer Tarot may be willing to do a review for a free deck and they also invite article submissions or offer inexpensive ad space.

On Facebook (members only): Tarot Deck Creators - helpful tips for artists including a list of potential deck reviewers
You can send a copy of your deck to the American Tarot Association's Quarterly Journal for potential review (may take a while since issues are only 4 times per year).
You may find inspiration and good tips from this essay; where 4 popular Tarot artists describe their methods of publishing.

Also if you enjoy those Unboxing or deck Walk Through videos on YouTube, with enthusiastic Tarotists, showing off their new fave decks, contact one that clicks with your sensibility and see if she's maybe willing to make a video in exchange for your free deck...you never know.

Please feel free to send feedback or recommendations of printers or deck making methods you care to share. Most of all, I hope you enjoy the creative process!


Arnell Ando
Creator & publisher of Tarot decks since 1995, & co-host of Tarot Art History Tours of Italy with Museo dei Tarocchi + co-author of Tarot Travel Guide of Italy. Visit Arnell's site for art, essays, & reviews.