Next Tarot Art, History Tour of Italy is planned for Autumn 2019, so

get on our contact list for details

and see ya there. It's going to be wonderful!



Last Tour (14 days) was Spring 2015
If you could not join us, good news -



Tarot Travel Guide of Italy

is now also available as a a

PDF

eBook! Full of fascinating historical details, colorful imagery, maps + live links



Here is our 2015 tour video of highlights. It gives a nice sense of this enchanting tour.



PS: The following outline from our most recent tour (2015) is useful reference for next one. An updated webpage will be shared when we're ready to launch. Hope to hear from you if interested...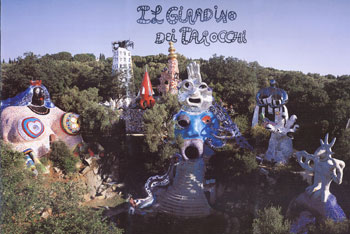 Excited about our 3rd epic adventure with a merry band of Tarot travelers! We have over 30 folks joining us (so price reduced to lowest possible rate.) Our previous tours were special but this one has their highlights + wonderful new places to explore. With a special viewing of the original Visconti/Sforza cards (from 1450) at the Carrara & the Visconti Brambilla cards on exhibit in Milan and even a private viewing of Sola Busca Trumps at the Brera! Along with visits to some ancient Tarocchi Frescoes, & time devoted to Milan, Bologna, Ferrara, Siena, Florence, Clusone & Bergamo...

Exploring the fascinating history of Tarot's progression, beginning with deep roots in the Renaissance era of Northern Italy. Witness this symbolic art form's continuing evolution which is discovered all over (sometimes in the most unlikely places.) Enjoy delectable local cuisines and travel the lovely countryside in a comfortable chartered bus. Our sacred world of archetypes, mythology, and symbolic dreamscapes awaits in this colorful kaleidoscope of creative perspectives.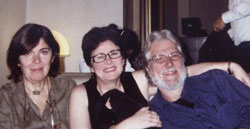 Presented by Tarot artist & writer Arnell Ando, (certified tour organizer), along with Michael McAteer (tour logistics manager), and the illustrious Director of the Museum of Tarot, Morena Poltronieri and Ernesto Fazioli - business partners at the Museo - and researcher/author/artists who will help guide our sojourn!
Check out various feedback from previous tours

Here's a fun video from the 2015 tour

Highlights of Our Spring 2015 Tarot Art & History Tour Include...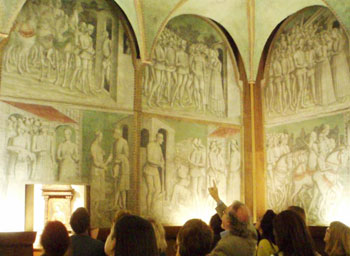 We'll begin our journey in Milan; the birthplace of Tarot. Revel in her incredible beauty and sophistication as she glides effortlessly between a contemporary life and a dark and fascinating past. We'll visit the Grand Gothic Cathedral and famous plaza - Galleria Vittorio Emanuele.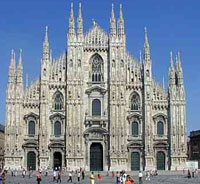 And make a pit stop in an old esoteric shop which we first discovered with Brian Williams (back in 2000).

But Milan's most impressive magical emporium of Tarot awaits discerning collectors and art history enthusiasts! And we will have plenty of time to browse il Meneghello with Osvaldo Menegazzi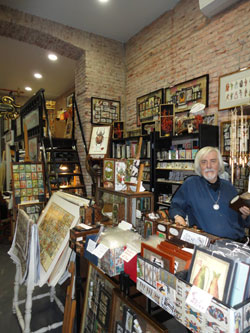 and become mesmerized by the magnificent assortment of handcrafted Tarot sets, artworks, shadowboxes, and meticulously made historical decks which Osvaldo has been producing for many decades. Later we'll dine with his family & friends at one of Milan's finer establishments.

The awe inspiring Renaissance fortress Castello Sforzesco (Visconti Castle) will surely impress with its majestic presence. It houses a curious collection of artifacts including an important Tarot fresco which evokes a dark fairytale. And don't miss beautiful works by Leonardo da Vinci and Bonifacio Bembo; (the creator of the earliest known Tarot deck; the history of which may have all begun in this very Milanese castle.)
---
Gorgeous handcrafted & rare Tarot collectables created & published by
Osvaldo Menegazzi of il Meneghello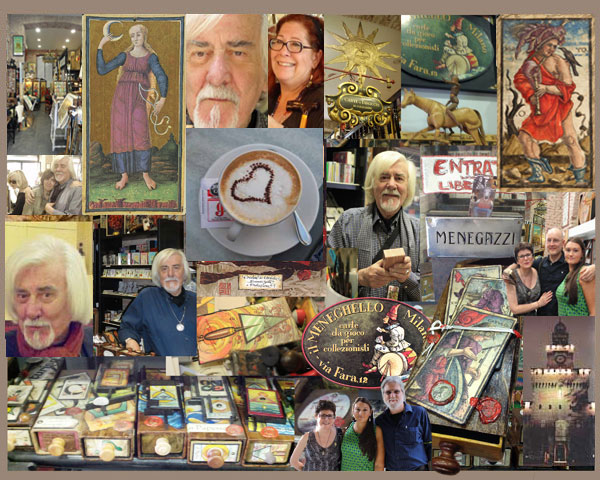 ---
Revel in the Aura of the Authentic...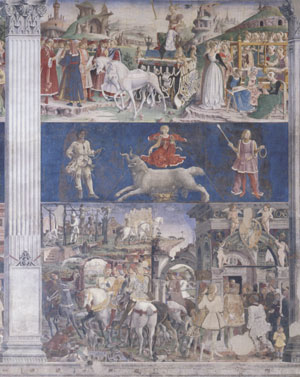 In the serene Renaissance town of Ferrara we will spend a relaxing time exploring this charming place full of character and intrigue which shares (along with Milan) an early connection to the evolution of Tarot. Highlights include Palazzo Schifanoia; a 14th century summer Palace, boasting frescos by early Renaissance painter Francesco del Cossa that depict astrological scenes with correlations to Tarot.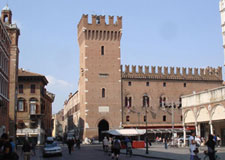 A Romanesque Cathedral with Baroque style interiors that has a remarkable museum with a noteworthy collection of symbolic works, (especially as described by Morena) including the amazing work of Cosmè Tura. A leisurely walk through an old cobblestoned Jewish village with a long, proud past dating back to medieval times, is bound to inspire with its unique architecture and delicate beauty.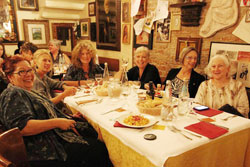 We will visit Bologna; a grand city with layers of rich history while having a thriving contemporary existence. Ms. Poltronieri will share the early symbology of Tarot found in the magnificent Saint Petroni Cathedral. We will discover an ancient Temple of Isis with strong ties to Jerusalem hidden within a church. Not to be missed is a visit to Saint Catherine; and the unusual and elaborate shrine dedicated to a 500 year old mummified nun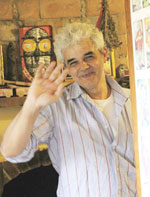 (who according to some scholars is the inspiration for the High Priestess in certain vintage decks...) Bologna also boasts a huge, elaborate open air bazaar, sure to tempt with an ever changing assortment of unusual treasures & novelties from many exotic cultures.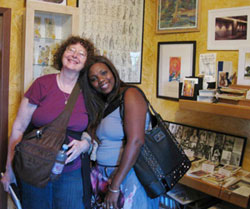 We will take a lovely journey up the mountain to Riola, to rejuvenate our spirits in the incredible Tarot Museum of our guides Morena & Ernesto; which can be found nestled in this small hilltop village, surrounded by forests. An impressive array of original Tarot artworks from around the world, as well as a remarkable collection of decks from the rare to the unusual and most popular awaits us. The large 400 year old building which is home to Museo dei Tarocchi has been lovingly restored by Morena Poltronieri and Ernesto Fazioli. The museum has many secret treasures including tree trunks that open to reveal shelves of prized Tarocchi and tiny doors with windows hidden in stone walls which show off precious miniature artworks. Our dear friends from Museo dei Tarocchi will throw us a garden party with art friends (Tarot collectors & scholars may be familiar with or possess many of their decks).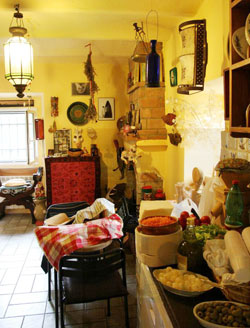 Pictured Above (Right): Ernesto Fazioli
welcoming us to Museo dei Tarocchi. Above (Left): Mary K. Greer & Gina Thies enjoying the museum's bookshop. Pictured (Left): Their atmospheric kitchen with party treats. (Lower Right): Mariarita Frazzoni, the famous children's book illustrator & popular artist of Museo dei Tarocchi.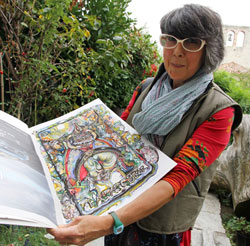 attending our last party.

Next we travel to the enchanting Tuscany region, with its tidy lines of cypress trees and endless olive groves- like gazing into an immense painting. Medieval castles and villages dot the landscape adding to this picturesque scene...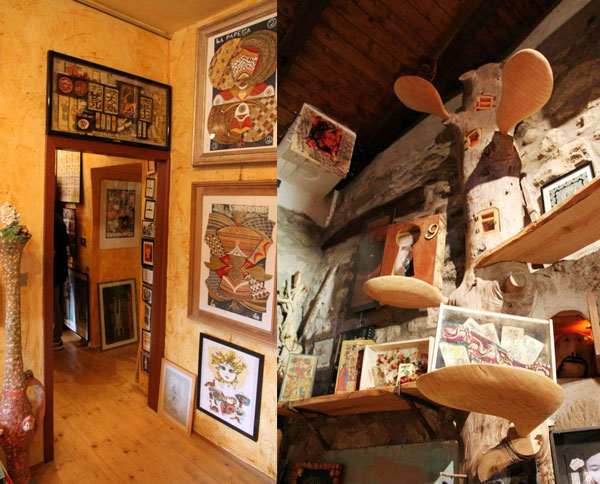 Magical Museum of Tarot in Riola, Italy
---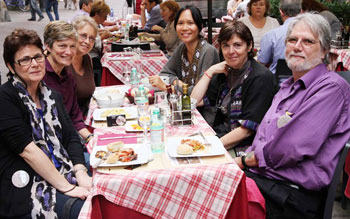 We will stay for a time, in both Siena and Florence. The marvelous Medieval city of Siena offers much to tantalize the palette and inspire the artist within. Its stunning B&W marbled Duomo di Siena is designed to fill the visitor with overwhelming awe. View mosaics and frescoes with pre-Christian, Pagan imagery and symbology also found in ancient Tarot cards. Fabulous museums await with some of the greatest masterpieces of all time.
Cobblestone paths spiral out from the Campo de Piazza offering wonderful eateries and unusual shops to explore.

Florence shares her majestic presence with defined grace. Wonder at her magnificent Cathedral. Note the impressive sculptures camping out around the town square (like mythical creatures on an Italian vacation!) You will be free to take in the fantastic Galleria del Accademia (home of Michelangelo's David), or the equally notable Uffizi Gallery or other intriguing landmarks on this Free Day.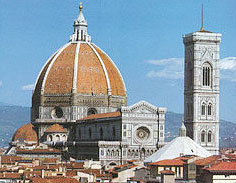 At the heart of our tour we will make a spiritual pilgrimage to the Tarot Garden of Niki De Saint Phalle. A breathtaking view of colorful sculptures loom large on the horizon as we draw near… Niki created this magical place where all twenty two trumps welcome us to explore and play in sight of the Mediterranean sea, surrounded by a rocky landscape, graced with olive and oak trees. Unlike most museums where you are not allowed to touch or take photos; the Tarot garden invites us to interact with her compelling and remarkable artworks.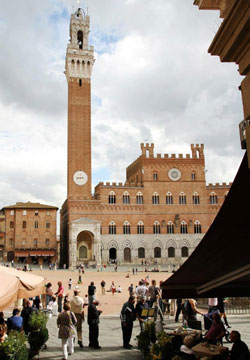 We can enjoy a blissful stay in the lovely hill-top town of Bergamo; home to Accademia di Carrara. We have been invited to a viewing of the original Visconti-Sforza cards (the oldest known Tarocchi deck) housed in the Academy Carrara, (which has been closed while under construction for 8 years).
Bergamo is split into an ancient Renaissance town and a trendy, fashionable area, and we will have time to explore both dimensions.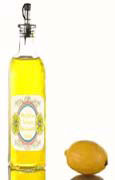 Incidentally, while in Bergamo researching the next tour with Morena, we were served a refreshing Limoncello in order to ''cleanse the palate for dessert.'' We fell under the spell of this lightly fragrant, citrus liqueur. Its like drinking liquid sunshine! So Arnell experimented with different versions and this is our favorite Limoncello recipe. And yes, we will return to that yummy restaurant with delectable Limoncello with this tour!

We will also travel to the quaint mountain village of Clusone to view an amazing ancient astrological clock and one of the greatest surviving Renaissance frescos known as the Triumph of Death.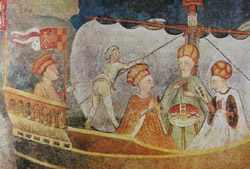 And we'll visit important, inspirational Tarocchi frescoes from the Renaissance era of the Lombardy region which can be discovered in private palaces such as the Castle of Masnago (which has ghostly remains of a charming 15th century Fresco depicting nobility playing cards while drifting in a tiny boat in Lake Varese)...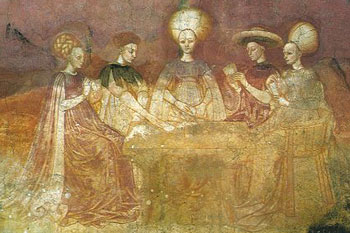 Then make our way back to Milan for a final surprise (or two!) and a farewell dinner with warm good-byes to dear Osvaldo Menegazzi & friends. The tour will end where it began and having come full circle, we can bask in the collective experience of a lifetime!

The tour includes:
All hotel accommodations, all breakfasts, transportation within Italy (chartered tour bus), all scheduled events & tour fees, and all but three dinners; along with wonderful surprises, special guests and Tarot luminaries.
---
The 2012 tour 'in a nutshell' in this cool Blog by Kat Tan Conte

And her short trailer for a film she is hopes to make. Brief glimpses of places we shared together...like fragments of a dream.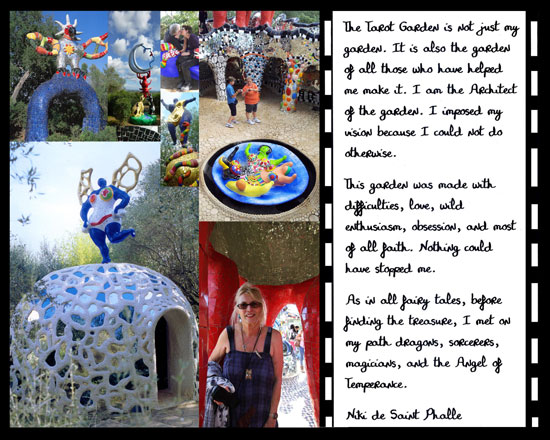 Incredible Tarot Garden by Niki de Saint Phalle

---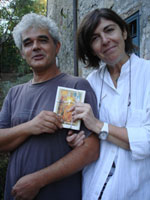 Morena Poltronieri, the director of Museo dei Tarocchi is seen with creative business partner Ernesto Fazioli. Their international Tarot Museum houses an impressive Tarot deck & art collection along with a publishing house and gift shop. They are respected scholars of tarot, astrology, ancient esoteric history, symbolism & lore in both Italy (predominantly Ferrara & Bologna; their 'home turf') and abroad. Check out this mini site which showcases the Tarot Museum, and offers Tarot deck reviews.

Arnell Ando
is a certified tour manager and this is the 3rd Tarot tour she has co-organized. She's a Jungian-based, Expressive Arts Therapist who has passionately studied Tarot since the 1980's. She has contributed to countless collaborative Tarot projects and created five decks so far including, Transformational Tarot published by U.S. Games, and Hero's Journey, which she has hand-crafted since '94. Her latest offering is Lucky Pack Tarot. She also publishes other artist's decks such as Dark Goddess Tarot and the Minoan Tarot. Arnell has combined studies in spiritual and psychological realms to create her unique interpretation of Tarot. She lives in Chicago with husband/best friend Michael McAteer (the tour's cat wrangler). You can view Arnell's art, decks, and a line of custom-made miniature occult shops, or read her various articles & reviews: www.arnellart.com

Michael & Arnell went on the infamous Tarot history tours with Brian Williams (1999 & 2000) and dedicate these Italy tours to his brilliant legacy with much love and fond remembrances.
Tarot Art & History Tour of Italy - 14 Days of Spring:
Sunday April 12th - Sunday the 26th, 2015
---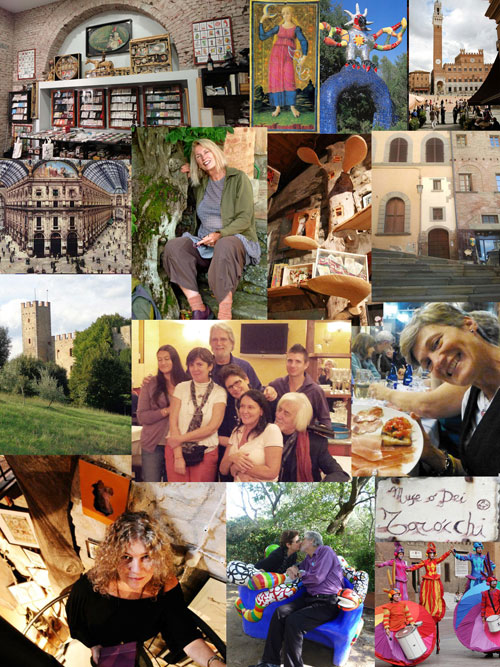 Above: Collage of 2012 Tarot Art & History Tour Highlights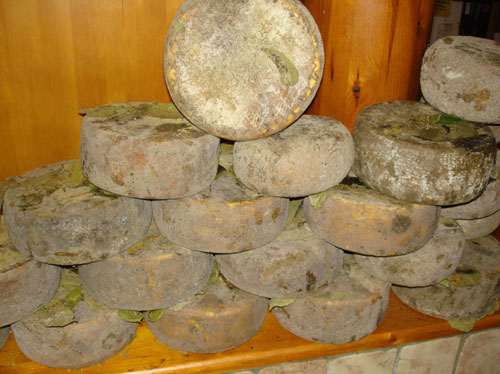 Wheels of Cheese in Tuscany Are Their Own Sort of Art

*Note* The three videos of: il Meneghello, the Tarot Museum & Tarot Garden are courtesy of Linda Marson of Global Spiritual Studies where you find a range of Tarot master classes & courses from well-known authors & teachers including Mary K. Greer & Rachel Pollack.

The 2015 Tour Conditions Agreement

For more information contact: Arnell Ando
Members join a Private Forum which provides trip details, photos, maps, menus, lodgings, helpful tour tips and a way to connect with our merry band of travelers.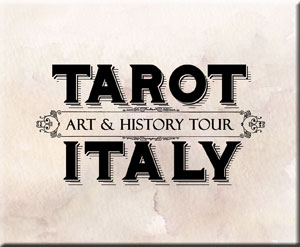 (Arnell Art Home Page Button)